Whenever I travel (except if we are going to a resort), I always bring just one backpack and another smaller day pack such as a messenger bag.
But why travel with a backpack instead of a rolling suitcase with wheels? Wouldn't it be easier to roll your luggage than carry a 20 lb pack (mine at its heaviest) on your back? Personally, I like the freedom a backpack allows me. While it can seem easier to roll your suitcase at times, traveling with one just doesn't suit my travel style as an independent traveler. With everything I need in just two bags that can both go on my shoulders, my hands are free and I don't feel tied down by the things I have. There have been countless times where I was very glad I had a backpack: going up and down stairs where there is no escalator or elevator (such as smaller hotels in Europe and elsewhere), walking to hotel or train station on cobblestone streets, walking in crowded places such as train or metro stations, traveling on a crowded local bus etc.
M and I enjoy traveling independently, so no organized tours (not to say there is anything wrong with tours). Having just a backpack and a day pack each provide us with the ability to move faster and be more nimble. Basically we travel Amazing Race style :) minus the fanny pack. There is something liberating about having everything you need on your back. You are not weighed down by your things; they don't own you, you own them. And it's amazing to know you really don't need all that much stuff to survive or live comfortably.
Packing light for travel is easier said than done though. It's even harder as a photographer when you want to bring every lens and camera body you have. In the past, I always ended up with more things than I actually needed or used. Which meant I ended up with a pretty heavy backpack, usually heavier than M's haha. Although I'm by no means a well seasoned traveler (have only been to 14 countries to date), I've finally come up with my own system for packing lightly through trial and error.
Since I'm going to Stockholm and Iceland in a few days, I'm using the items I've packed for this trip as an example.
Here's a breakdown of what goes into my backpack:
1. The backpack itself: a 50 L Gregory Jade backpack that I've had for a few years. I think I spent about $200 but it's important to get a good quality backpack because it will be well built, durable and provide better support for your back and hips. I think I can easily get another 5 years out of this bag even after all the rough handling by airport personnel :D
2. Soft Lug travel pillow for those redeye flights and long distance train travels. Speaking of travel pillows, have you seen this new J pillow? It seems way more comfortable but a bit bulkier. Or this?? I don't think I'd ever use this. ha.
3. Toiletry bag with all the essentials: personal hygiene items including face cleanser, moisturizer, tooth brush, tooth paste, deodorant, makeup, mostly all travel sized or under 100ml; face cloth; medications including Gravol (since I get motion sickness), cold/flu meds, tylenol or similar, bandaids, tums; tissues; cotton pads
4. 2 sweaters. The one on top is my Icelandic wool sweater which is the warmest thing I've ever worn! It's really thick so I wear it on travel days. If I'm traveling to warmer destinations, I only bring 2 thin cardigans.
5. Light weight & waterproof rain jacket. I pretty much bring this with me on every trip now. It's super light weight plus it has a hood so saves me having to bring an umbrella. Once while in Scotland, M and I (M has the same jacket but the male version in blue) walked in the rain for over an hour to our B&B after a hike . When we got back, we were still dry inside. Since I'm traveling in early March, it will still be fairly cold so I'm bringing a hat and mittens as well (not pictured).
6. 4 shirts/tops: 1 short sleeved t shirt, 2 long sleeved shirts as base layers and a denim shirt to layer with. If traveling to warmer destinations, I bring 4 short sleeved t shirts and 1 or 2 long sleeved ones plus a dressier top.
7. 1 pair of cotton pants, 1 pair of jeans (which I will wear on travel days) + wool tights to wear as base layer if really cold. If traveling to warmer destinations, two pairs of shorts + 1 pair of cotton pants.
8. 3 pairs of socks; usually I only bring 2 pairs but since it'll still be cold I'm bringing my merino wool Icebreaker socks. My friend Kristen introduced me to these, pretty much warmest socks around.
9. A bathing suit. I might not use these but in case I visit the Blue Lagoon or a hot spring.
10. Tripod for those beautiful night photos. This is probably one of the heavier things in my bag, I might get a lighter version next year.
11. Hiking shoes. These are a bit bulky and not so stylish but I'm past the point in my life where I sacrifice comfort for style too much. ;) They are sturdy, warm, water resistant and really comfortable. If traveling to warmer places, I add a pair of Birkenstocks as well.
Not pictured here: mittens, a scarf and under garments
Additional things: 3 – 4 dresses + a skirt and a straw hat for warmer climate travels. Oh and sunscreen!
I find with this list, no matter if I'm traveling for 1.5 weeks or 5 weeks, or indeed 2 months, they are more than enough. The key is to pack clothes that will mix and match well and are versatile. Wear bulkier items on travel days if possible. Beyond that, the trick is to wash your clothes while traveling. Laundromats can be found almost everywhere.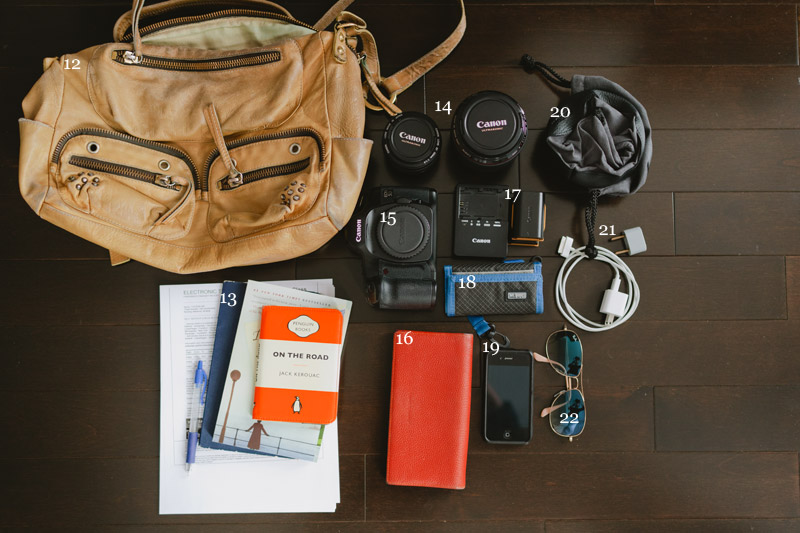 Things that go into my day pack:
12. The bag itself; a leather messenger bag I've had for years. It's roomy, sturdy and has additional pockets for smaller items.
13. Travel documents, a pen, a Moleskine journal, my passport and always, a book. I usually try to pick one that's not as thick, and no hardcovers!
14. Lenses; not pictured here is my 35mm f1.4 lens since I was using it :)
15. Canon 5D Mark iii camera body (pictured here is the 5D instead since I was using the Mark iii)
16. Wallet with credit cards, travel insurance details, bank cards + cash
17. Battery charger  + extra battery
18. Memory cards
19. iPhone for emails & Instagram of course
20. Lens pouches to protect the lenses
21. iPhone charging cord + the correct plug converter
22. Sunglasses
This list is quite a bit longer if I'm traveling for work for obvious reasons. Add another camera body, lens, flash, and more batteries. Besides my camera gear, I'm pretty low tech, no iPads or laptop…for now anyway. I might need to get a laptop for on the road editing and such if I travel for work more.
Additional things: sometimes a guidebook. But I try to use electronic versions these days. Lonely Planet is great for these.
Here's what the final packed bags look like! I might actually be able to bring both as carry on items. The backpack being the carry on and the messenger bag is my personal item. The biggest advantage of not having to check your bag is not have to worry about the airline losing it! And then once you get to your destination you can hit the ground running and not have to wait at the luggage carousel.
Final tip: start early! I'm bad at this but M always plans an hour for packing at least a week before we leave. You don't have to put everything into your bag/suitcase, but at least gather things and put them in a separate area. Plan your outfits strategically while you do this (I know this can be hard for the ladies), and then edit, edit, edit!