My Story
hello!
My name is Janice. I'm a wedding photographer based in Toronto, Canada. I also love to shoot destination weddings, and I'm available to travel anywhere you are willing to go! Even though I don't like talking about myself, I believe it's important to do so if we are going to work together.
So here's the short & sweet version:
I'm a lover of tea, macarons, silly jokes, and a good story.
The only things I collect are passport stamps, photos, letters, and books (and postcards).
If I wasn't a photographer, I'd probably be a full-time traveler, or travel writer.
I'd probably pick Ocean over Mountains, but I'd prefer to have both.
My friends tell me I'm weird because I don't eat onions or garlic, but I use them to cook.
Every Christmas, I do a Lord of the Rings movie marathon with my husband, Mike (extended versions!)
And here's the long version:
I didn't grow up wanting to become a photographer, though I was always surrounded by stories whether in the form of art, music, books or movies. Reading was probably my first passion. My parents were big readers, so naturally I read a lot growing up. When I was 13, I thought about becoming a journalist.
I spent most of my teenage years trying to figure out what I was going to do with my life, and how I was going to "find" myself. One day in my second year of university, instead of studying for that upcoming midterm, I read The Alchemist by Paulo Coelho. Half way through, I put down the book, wiped away the tears and wondered what dreams my heart would go in search of like the shepherd boy in the story. Then I saw it in my mind's eye: I was traveling on a train with my parents, maybe 5 or 6 years old and we passed by a lake lit up by the late afternoon sun with silhouetted mountains. It was so beautiful to my child self. I vividly recall wishing there was a way I could capture that scene forever and tried to commit it to memory. That was when I thought about photography. For the next two years I wanted to take classes and learn more but somehow I always pushed it to the back of my mind. Something else always came up.
The smell of a new book, better yet, the smell of an old one, reading by the lamplight late into the evening, going to the bookstore on New Year's day to get a fresh stack of them with my parents – it's no surprise that my first job fresh out of university was at a book company. I continued with the 9 – 5 routine for several years, almost as if on autopilot, just getting by. Until one day, a conversation with a friend lit the proverbial light bulb: I was always waiting for life to start while I was finding myself. My friend said to me – "What are you waiting for? For every minute that you wait for life to happen, life is happening all around you. It does not wait for you. These are the facts: you wake up everyday, and you are breathing. That does not change, and it won't change until the day you die." And I burst into tears because in that moment I knew what he said was true.  Finally I realized life isn't about finding oneself. Because of course I've been here all along. I finally understood the meaning of the words "life is what you make it". And then I remembered that afternoon reading The Alchemist, and my life's fascination with stories.
A picture is worth a thousand words they say. So for me, photography is about telling stories, as is art, music, books and films. The stories they tell give them meaning. In life we encounter many fleeting moments that we know we'll never forget. At weddings, there's a concentrated dose of those moments. I think that's why I love weddings, two people in love, the celebration of love, a manifestation of commitment, a gathering of family and friends. There are things that happen at every wedding, and yet each of them has its own story.
I seek meaning in everything I do, and with photography, I don't just want to take another pretty picture. My goal is to capture the realness and the honesty in the moments, and in your connections. I wear my heart on my sleeve and I shoot from the heart. Genuine, intimate, emotional – these are a few words past clients often use to describe my work.
Besides being a storyteller, a story-consumer & collector of moments, I enjoy traveling and have a list of places I'd like to visit that's always getting longer. Places and people move me beyond words sometimes. I'm amused easily. And I enjoy being silly.
Thanks for stopping by, and please feel free to browse through my work – the people I get to meet, and the stories I'm honoured to tell. To get to know me better and take a look behind the scenes, you can also find me on Facebook, and Instagram.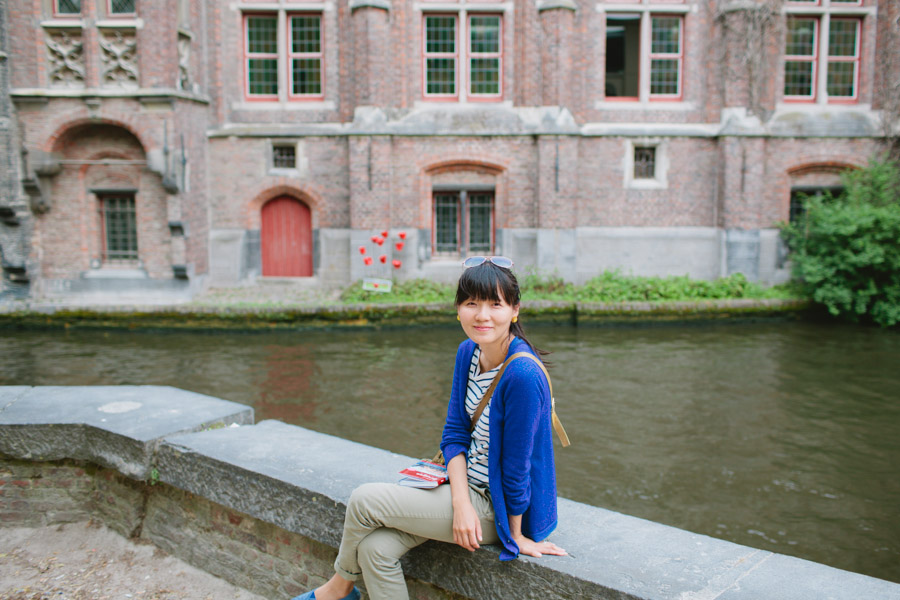 photo of me by my sweet husband.