The first time I traveled to Italy was in 2010. M and I visited Rome, Amalfi Coast, Florence and Venice in our short 12-day trip. Italy was always high on my "must visit" list ever since I was little. The country just seemed so romantic. And their language sounds so beautiful. When I read Eat Pray Love by Elizabeth Gilbert, I read that the Italian language had a very poetic and literary origin. I will try to be brief here and try to paraphrase from the book as much as possible. Italy for centuries had been independent city-states often at war with each other, and alternately dominated by other European powers. It did not become unified until 1861. Though Latin was still used, it was mainly used by the scholars and educated men in a written format. A derivative of Latin called Vulgar Latin (a colloquial form spoken by common people) was the predecessor to Romance languages such as French, Spanish, and Portuguese. In every other country, the resulting modern day national language was a result of the dominating city, which determined the language of the whole country. This was not the case in Italy. Like its neighbours, many regional dialects existed across the country; dialects so different that a Florentine scholar could not communicate with a Venetian merchant. Then in the 16th century, some Italian intellectuals got together and decided that it was absurd they didn't have a common language to be called their own. Then they did something quite dramatic, which was they handpicked the dialect that was the most beautiful, which became known as Italian. The basis for that beautiful dialect? It was based on the Florentine language in which Dante had used to write his Divine Comedy in the 14th century. Dante actually thought Latin to be a "corrupt, elitist" language and had turn to the street where Florentine was spoken by the residents of his city.
For a while I somewhat doubted her account because I thought it was unbelievable for a language to be "picked" that way. Then I realized this was in a published book, which means she must have done her research and wouldn't have published content that was inaccurate (duh). I have since confirmed this with Wikipedia (I know, very scholarly of me). As Elizabeth Gilbert pointed out, for a group of Italian intellectuals to get together and pick a dialect that was the most beautiful to be their official language is equivalent of a bunch of Oxford scholars to get together in early 19th century and decide that from now on we would all speak pure Shakespeare. I actually think that would be kind of amazing. I love the way Shakespearean English sounds.
So yes, a beautiful country with a beautiful language. We returned again in 2012 for part of our honeymoon. Because I have too many photos, I decided to split them into separate posts. Here are some photos from the Amalfi coast.
The Amalfi coast is probably one of the most well known regions in Italy, and for a reason. It's stunningly beautiful. The towns that perch right along the cliffs with an azure Tyrrhenian sea at their doorsteps practically. Then there's the hairpin turns of the coastal drive. For both of our visits, we started in the town of Sorrento, which is where the train line ended. But before that, if you are coming from the north, you will most likely be taking a high speed train from Rome to Naples. From Naples, you'll catch a local commuter train called Circumvesuviana. The experience on that train is very authentic. Though if you do a search on travel forums, you'll likely find some negative complaints from travellers, mainly about robbery or thieves. Our experience was as long as you keep a low profile (the stereotypical loud, naive American traveler comes to mind…), be alert of your surroundings and don't wear flashy jewellery, you will be fine. My favourite memory traveling on that train was exiting the Naples suburbs and the train traversing through lemon and orange groves on one side; so close that the tree branches rattled against the windows as the train speeds along. And on the other side, the view to the Bay of Naples coming in and out of sight through the seaside towns. This is why I love train travel, you don't have to worry about how to get to your destination once you step on the train, you can just enjoy the journey.
Sorrento is famous for its lemon products. Their lemons are very big.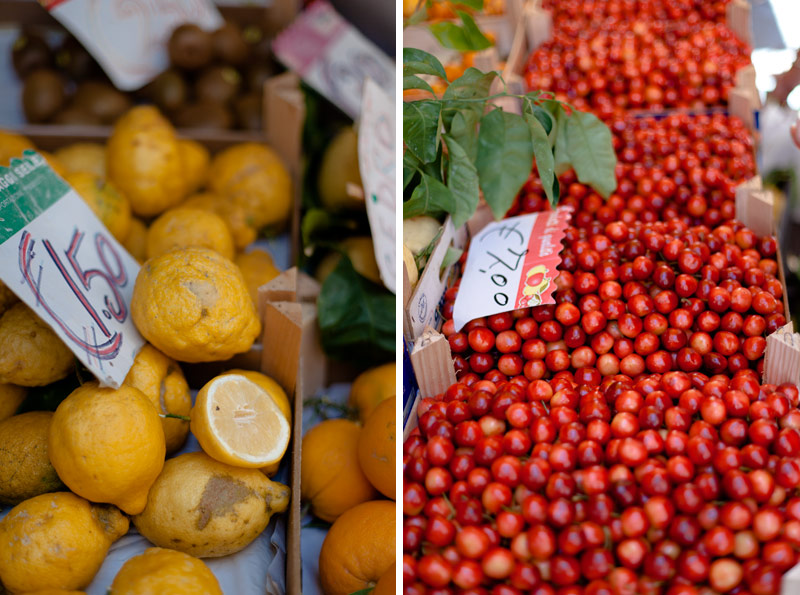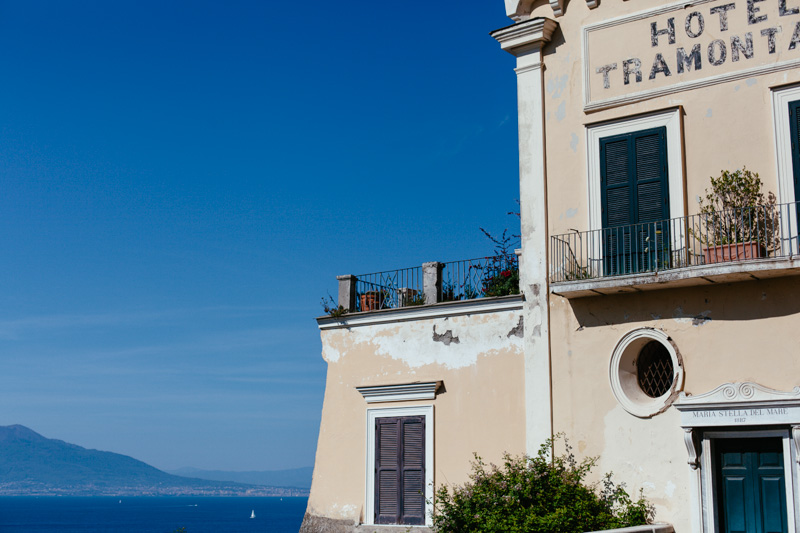 Sorrento is the gateway to the Amalfi coast. From there, you can either hire your own car and enjoy the coastal towns or use the efficient public buses to connect your routes.
The first option gives you more freedom, though the drive can be a bit intimidating for non-Italian drivers.
The second option is a bit more restricted but cheaper. I almost forgot, you can also take a ferry between certain villages in the summer.
You can also take a short ferry ride (30 to 45 minutes) from Sorrento to the island of Capri.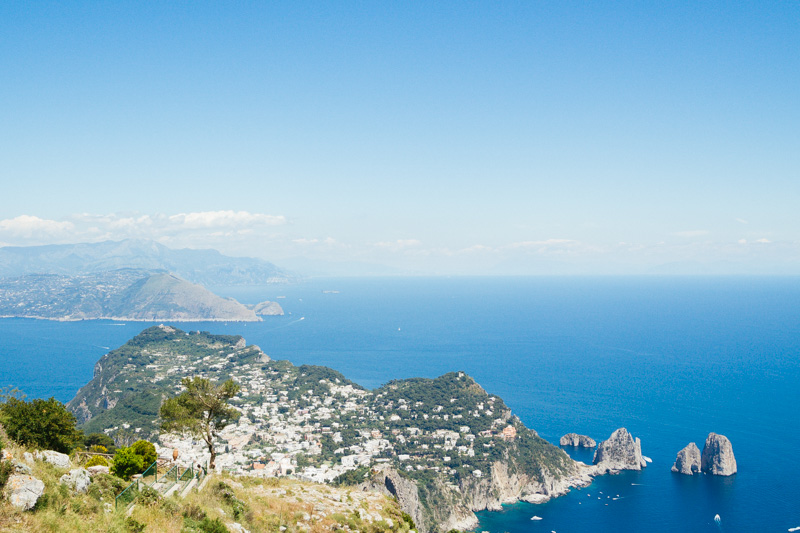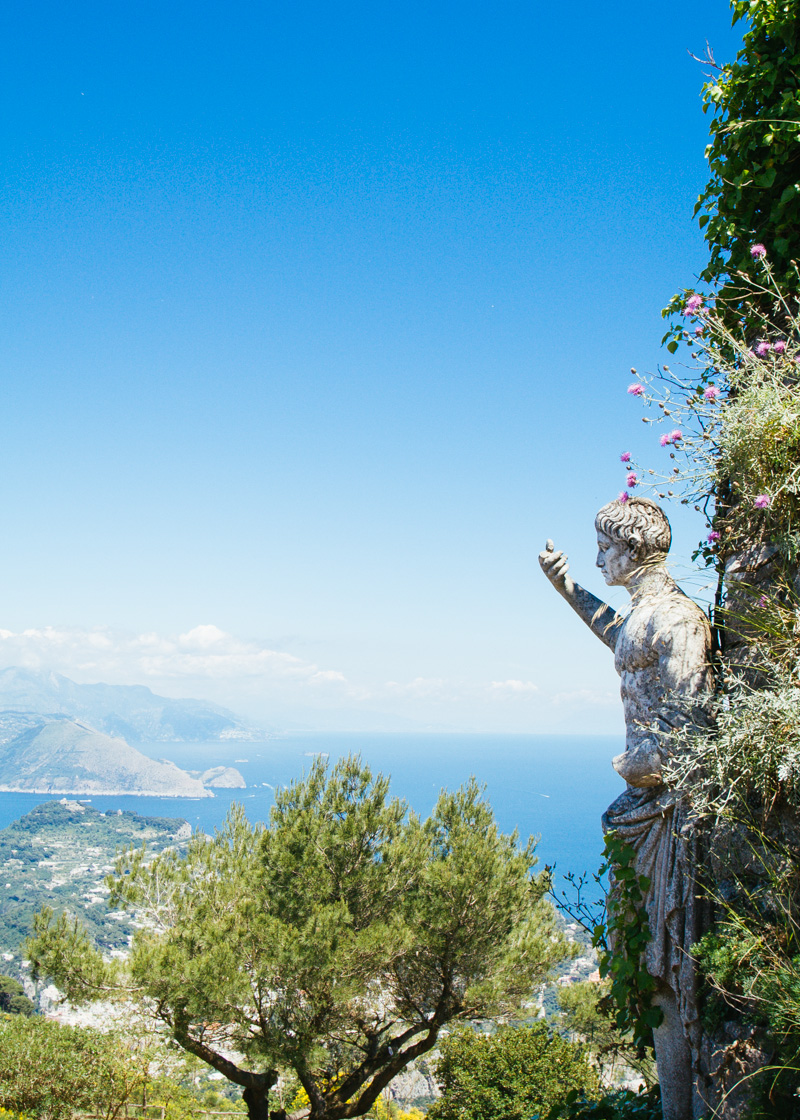 Cable car ride (or more like cable chair lift) to and from Monte Solaro, the highest point on the island.
That was the most intense cable car ride I've ever had.
The only thing that stopped you from falling off was a thin iron bar.
Granted the ride was very smooth and the scenery was too beautiful to be afraid anyway.
Lots of tourists and boats jostling to get into the Blue Grotto. While we thought the island was beautiful, we also found it to be too touristy.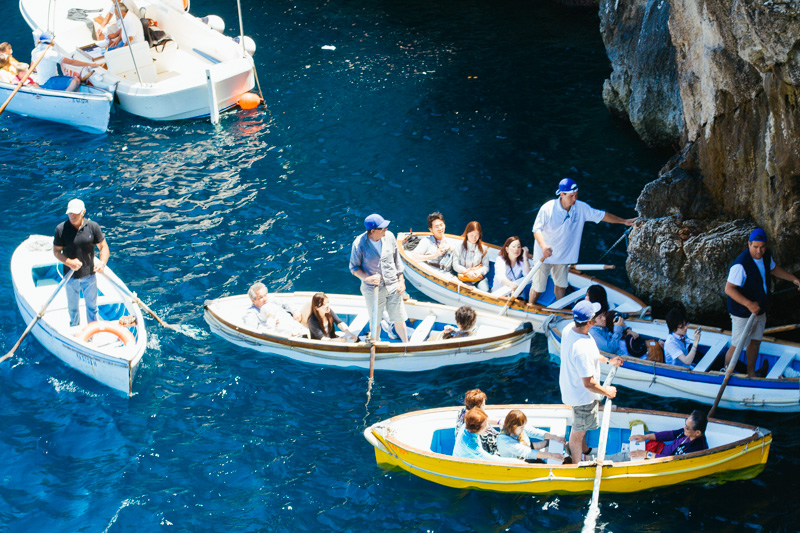 Bus ride photo of the coast.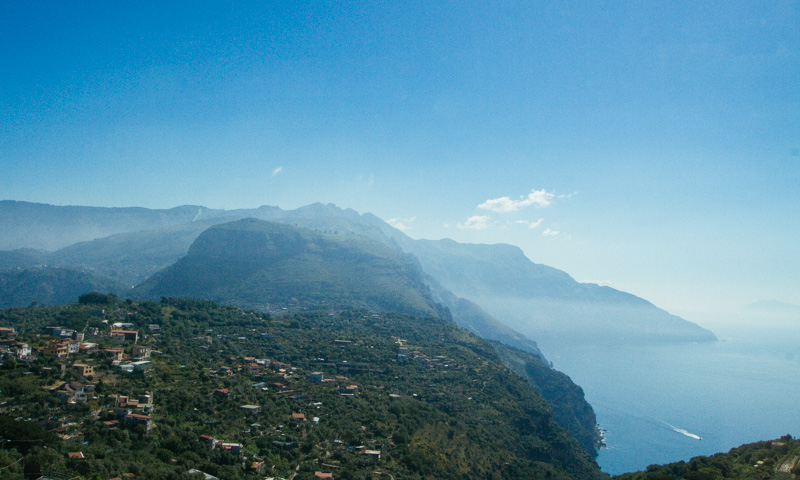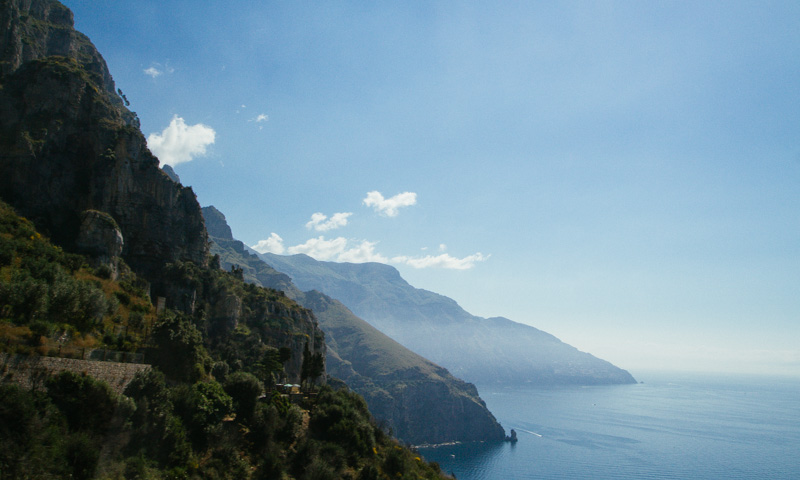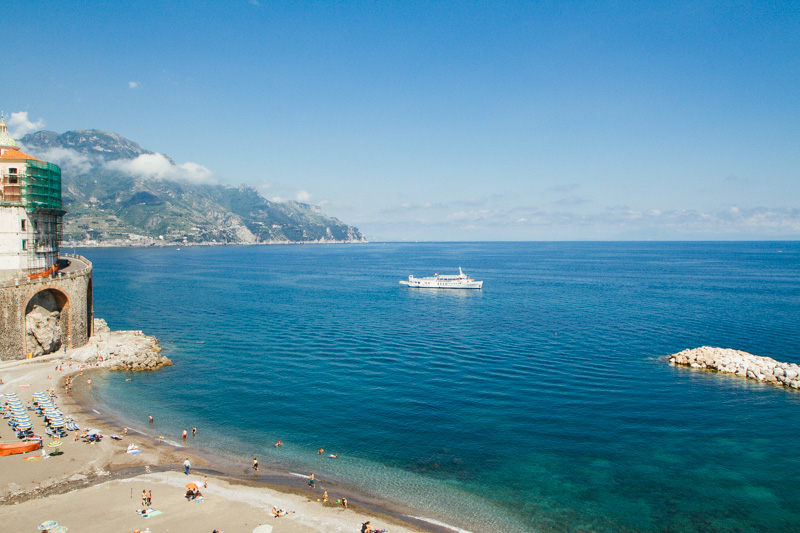 A big part of why we decided to return to the Amalfi coast for our honeymoon was to hike The Path of the Gods.
Or Sentiero degli Dei in Italian. I don't speak Italian but try to pronounce the words and tell me they don't sound beautiful.
This was the absolute highlight of our trip. Besides a thrilling coastal drive (if that's your thing),
this is in my humble opinion the best way to enjoy the coast.
And, it's free!
You can find more info on the hike here, or read reviews of the hike here.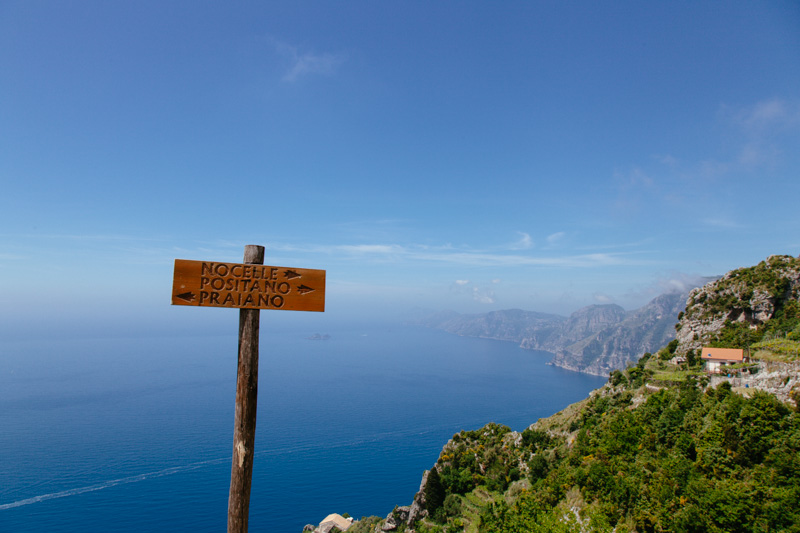 The views of the coast unfolding below was just breathtaking.
We were so high up I felt like I could touch the clouds if I reached up.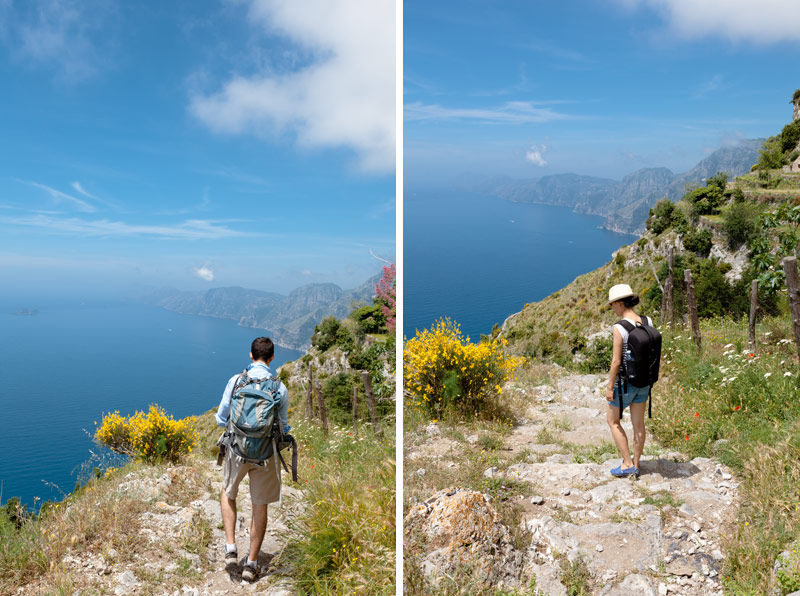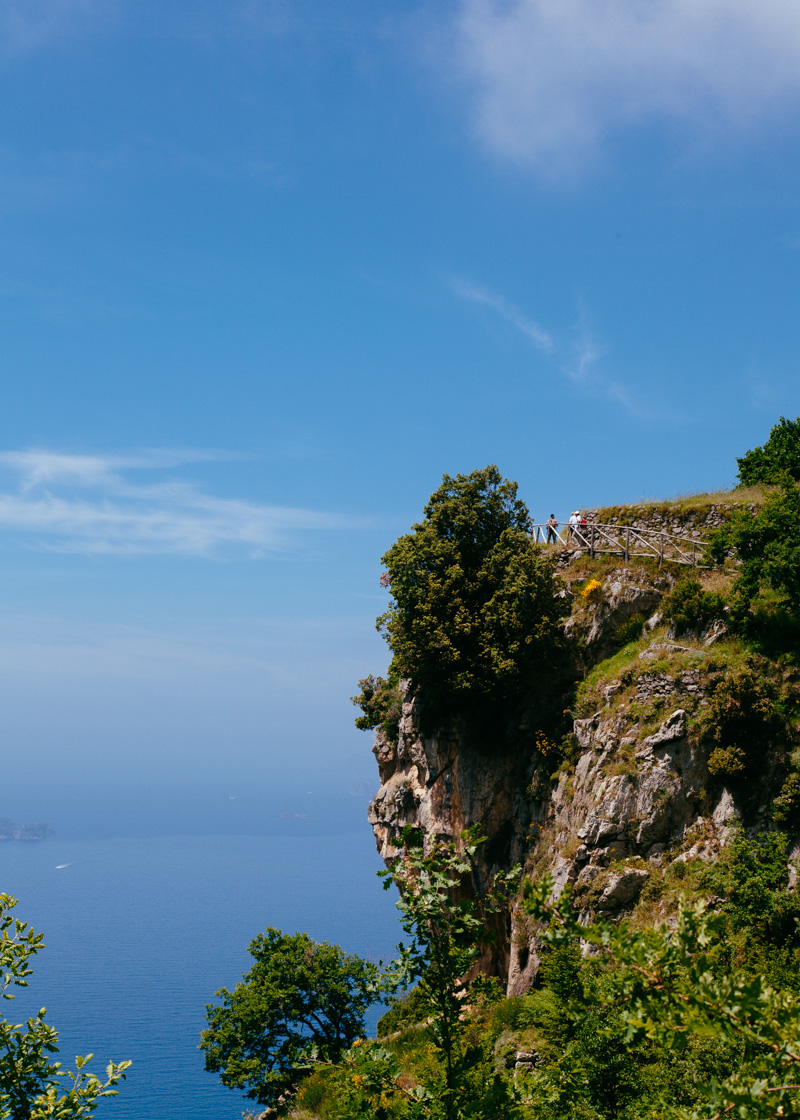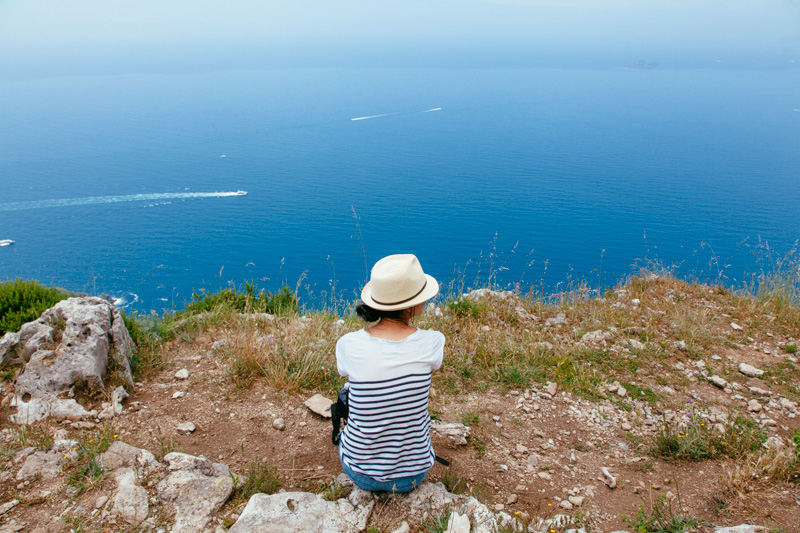 We started the hike in the little village of Bomerano, on the hill above the village of Praiano. The hike took us about 3 hours.
Most people stop at the little hamlet of Nocelle, high above Positano.
From there, we were told there's a bus that can take us to Positano or take a series of steps.
We wandered around town but couldn't find this bus stop. So we decided to take the 1,600 steps down to Positano.
I thought going uphill is bad, but nothing compared to the downward hike. It was tough on our knees and calf muscles.
One note here is if you do this hike any time from June to mid September, start as early as you can.
There are scarcely any shady patches on the hike, so it gets very hot by mid-day.
From Positano, we took a ferry back to Amalfi.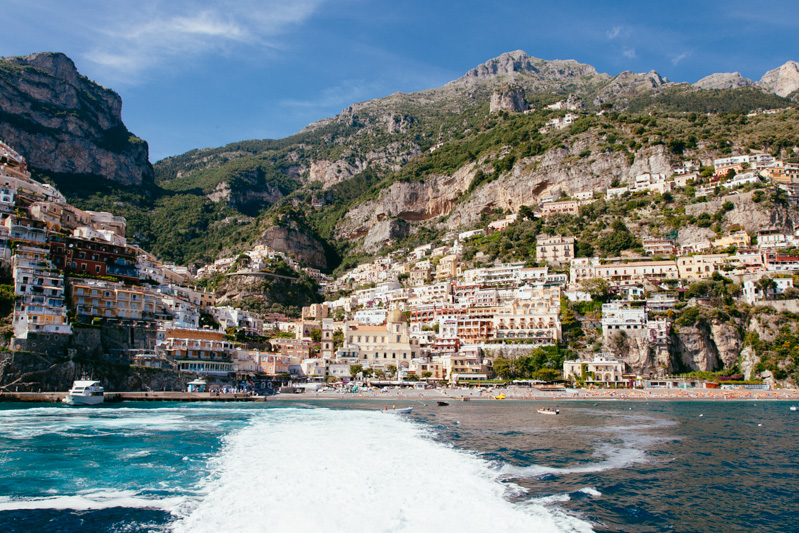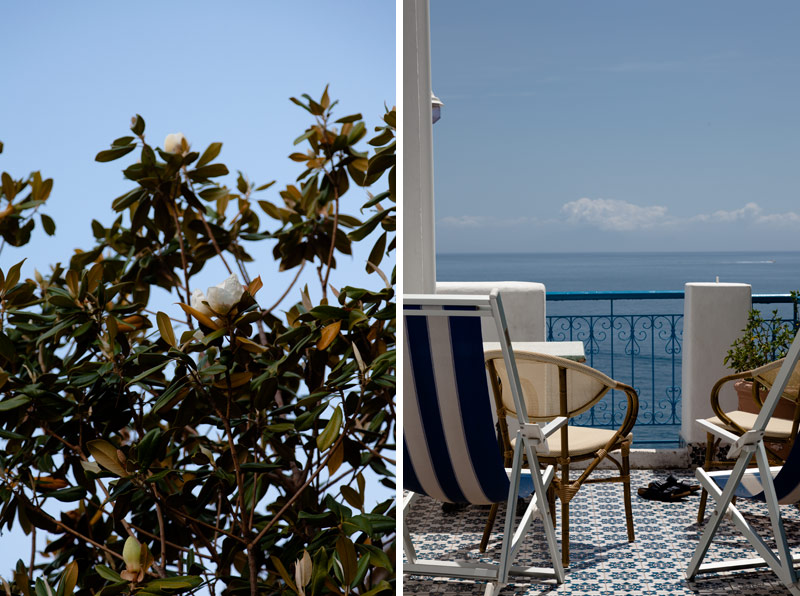 For our second visit, We stayed at Villa San Michele, which was just below the village of Ravello.
The hotel was built into the side of the cliff, right into the rocks. So each room has a sea view.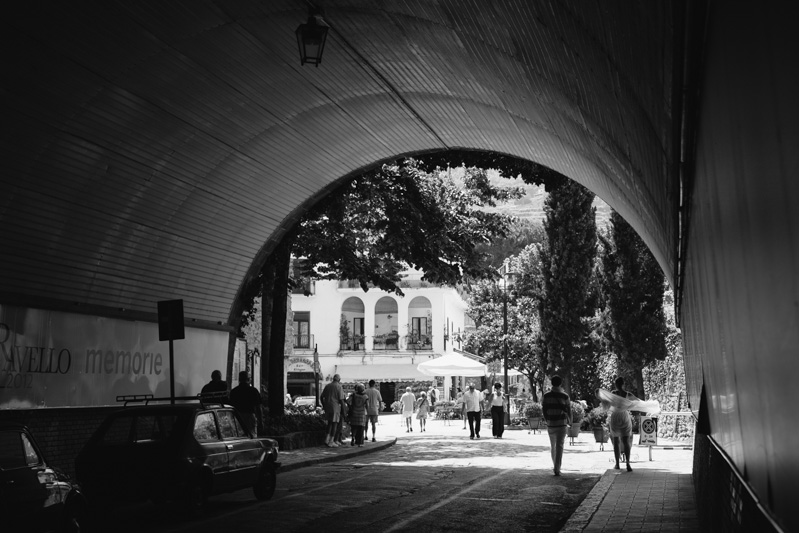 the beautiful Villa Cimbrone garden.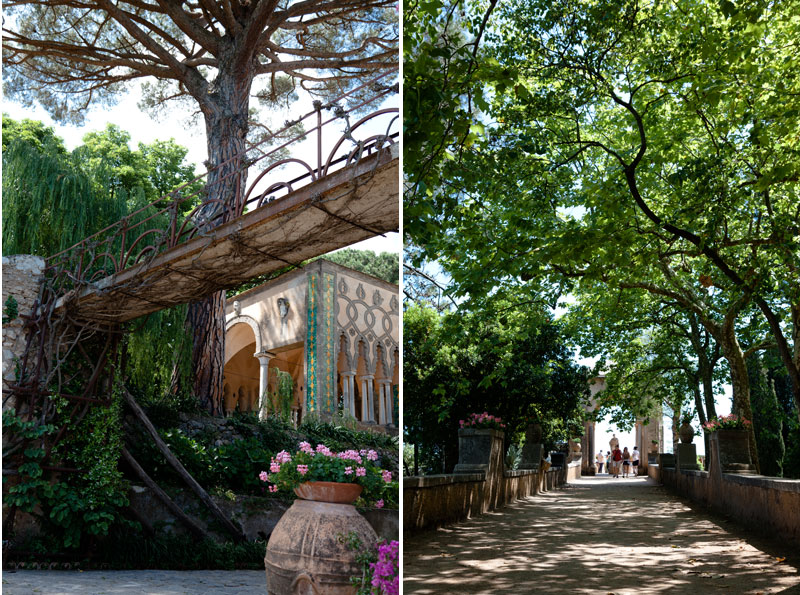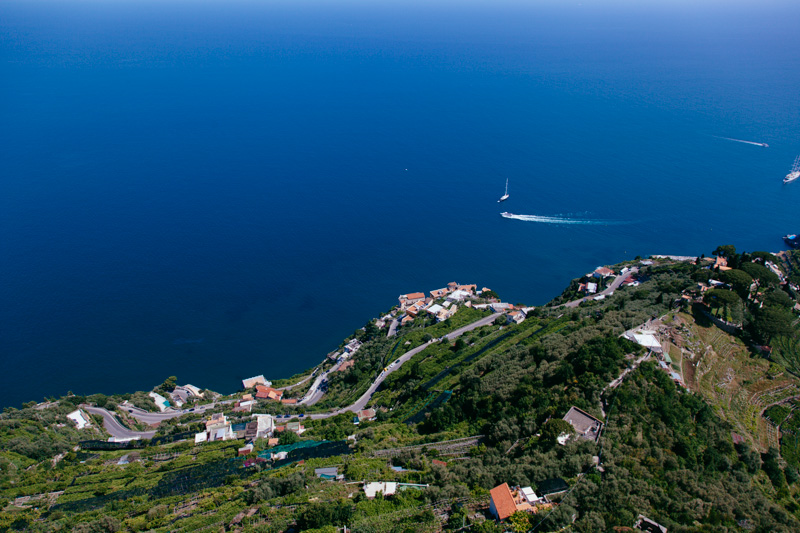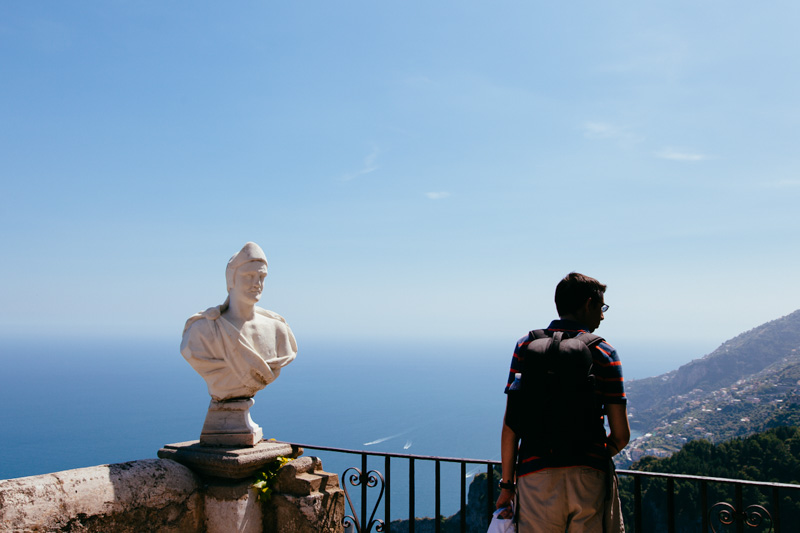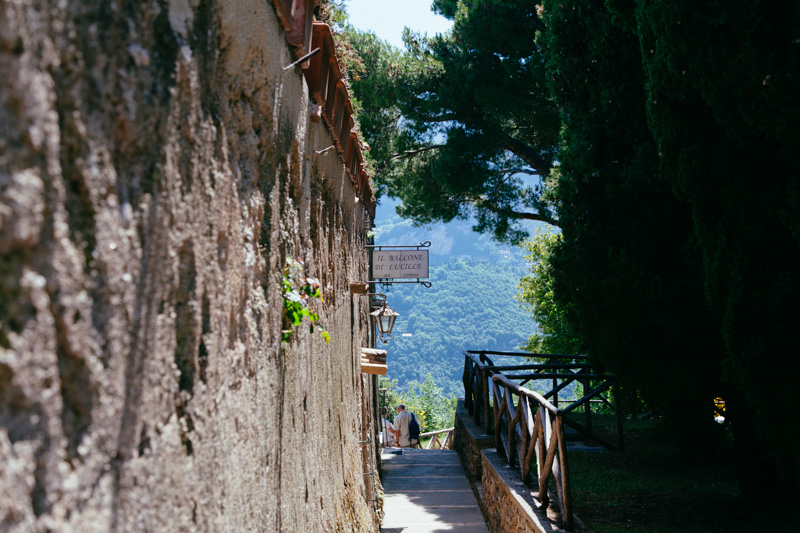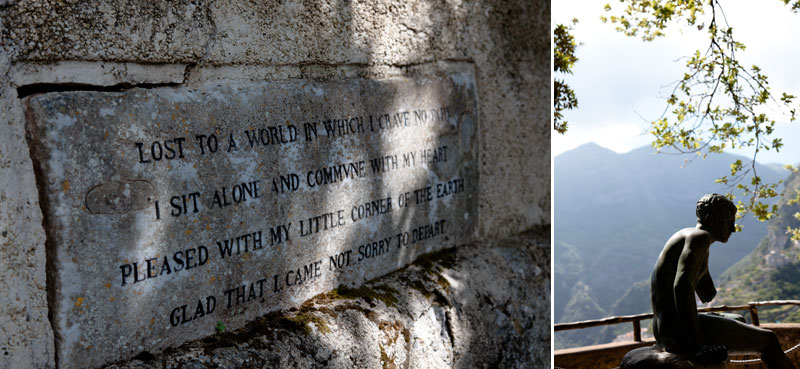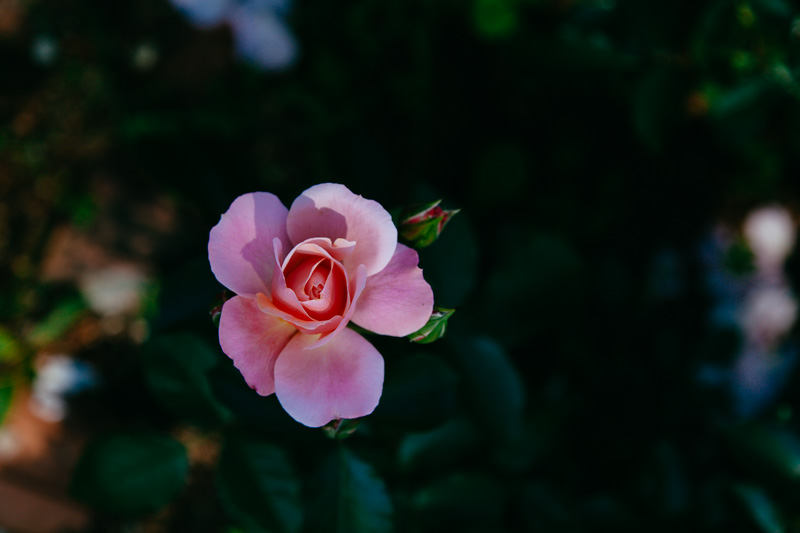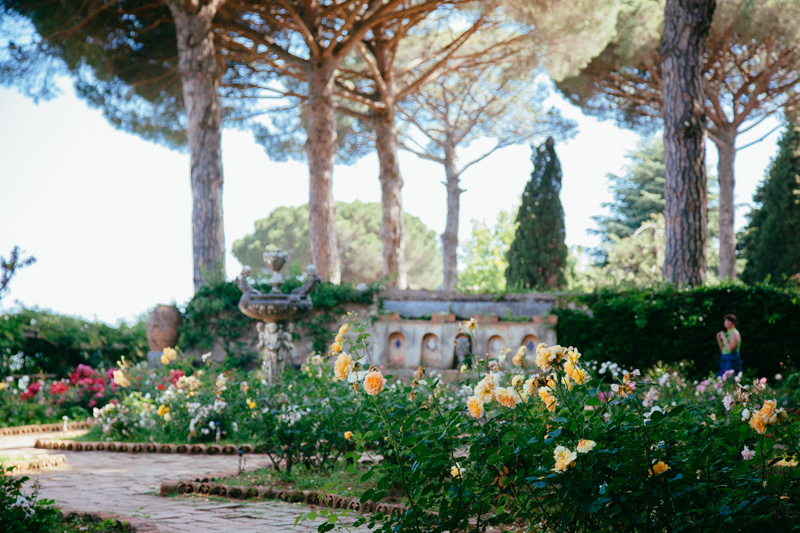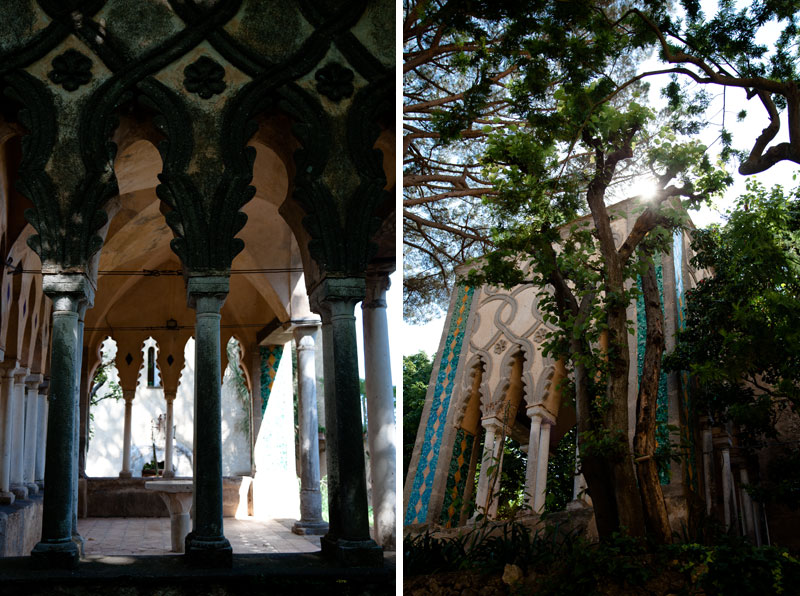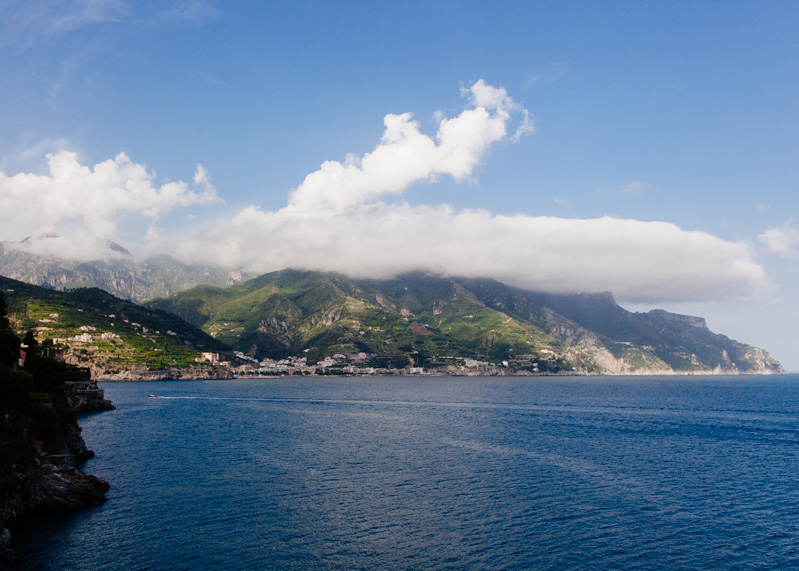 "My soul is full of longing
for the secret of the sea
and the heart of the great ocean
sends a thrilling pulse through me"
– Henry Wadsworth Longfellow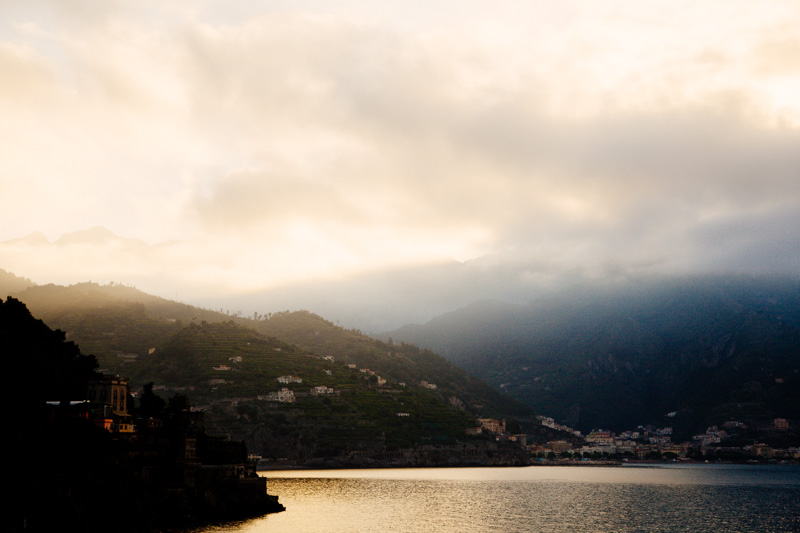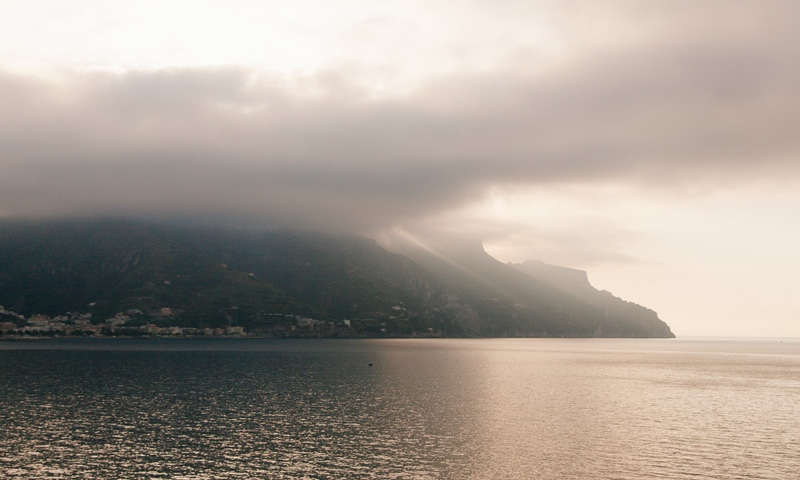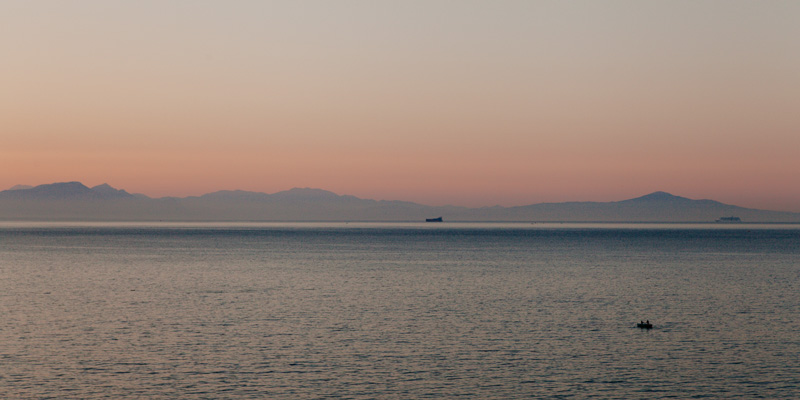 Until next time, ciao ciao!