Eclectic Floral Themed Wedding
I'm excited to finally share Katie and Gordon's eclectic and heartwarming Granite Brewery wedding today! From the moment Katie told me they wanted to go standup paddle boarding for their engagement photos, I knew their wedding was going to be very unique! And unique it was!
The moment I saw Katie's wedding dress, I was blown away. I've never seen such a unique wedding dress before, mostly because it wasn't white at all. Katie didn't want to look like a "bride" on her wedding day, she just wanted to look like herself. Katie was certain about the fabric she wanted to use from the beginning – a beautiful sheer organza with floral print. Florals was definitely the theme. Katie's dress designer Breeyn then hand sewed embellishments over the patterns on the back of the gown to create more vibrancy and added little insects. Then there was this incredible veil made by her friend and designer David, it was inspired by Cinderella's veil (Katie & Gordon got engaged at Disney)! Katie completed her look with real dried flowers painted onto her nails, and a beautiful bouquet inspired by 1920's wedding bouquets.
Then there is the wedding itself. The rain forced us to have the ceremony under the awning instead of in the garden but that didn't dampen the joy of the occassion. Katie is the only bride I've photographed who walked down the aisle to the theme song of Star Wars. Gordon, and everyone were very pleasantly surprised! Wayde, their officiant, had one of the most touching ceremonies I've witnessed. And the evening festivities included one of the funniest Lip Sync Battles I've ever seen. So all in all, the day was a lot of fun.
Thank you so much for inviting me to the Granite Brewery to share in and document your special day Katie & Gordon! It was such a pleasure to be a part of it. Here's the story of their wedding day.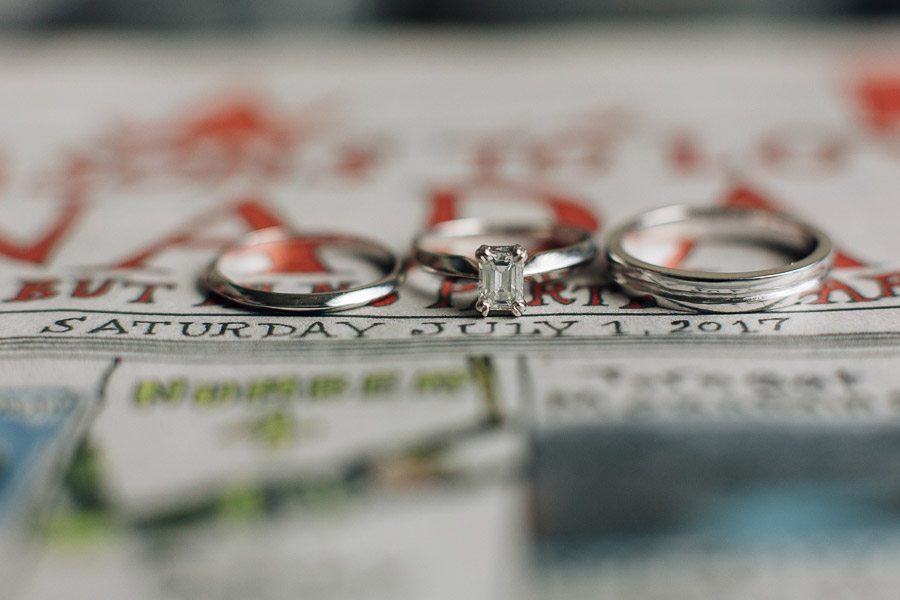 The Team:
Hair: Rikki Zuker
Makeup: Julie Lynas
Wedding dress: Breeyn McCarney
Veil: David Dunkley
Bouquet: Quince Flowers
Invites: designed by Gordon
Table centre pieces: DIY by Katie