Ah the wedding dress. So much romance and ideology and expectations on one single item. Growing up, I wasn't one of the girls who dreamed about her wedding day or have always known what kind of dress she would wear. After we got engaged, I actually fretted about the impending wedding dress shopping. In my mind, wedding dress shopping was associated with going to boutique after bridal salon, trying on tons of different dresses and pushy sales people. The very thought of that made me cringe a little. I'm sure my opinion of this is a bit exaggerated but nevertheless I didn't want to be in that situation.
So that was one of the reasons why I bought my dress online (gasp!) The second reason was that I couldn't believe how expensive wedding gowns can be. Let me explain, I enjoy fashion and love a gorgeous dress as much as the next girl, but actually dropping thousands of dollars on one was another thing. I love the designs of Monique Lhuillier, Carolina Herrera, Vera Wang, Ralph Lauren (swoon!) but knew I wouldn't be able to actually afford one. On the other hand, I didn't want anything with bad quality either. All that is to say I believe in paying a little more for a quality product, there had to be middle ground somewhere right? I also didn't want the typical bridal gown either…you know, strapless, A-line poufy ball gown with some sort of random beading or embroidery. Not that there's anything wrong with them, they are just not my cup of tea and most bridal boutiques seem to have an abundance of them in slight variations. In the end, I bought a used wedding dress on Once Wed, a popular wedding blog that also has a dress boutique where past brides can sell their gently used wedding gowns. This is actually a great way to buy a designer dress if that's what you really want. The dress I ended up buying was a number from Priscilla of Boston (the boutique was closed in 2011 by parent company David's Bridal), a bridal boutique based out of, of course, Boston.
Now, I know what you are thinking, how could I have bought a dress without trying it on and no way of knowing how it would look on me?! And it's not refundable; like buying things on Kijiji or Craigslist. This is definitely not for everyone and I did worry considerably about it. In the end, I decided to trust my gut! Plus, my close friend, and maid of honour said to me, well if you end up hating it for some reason, you can always re-sell it. True that! A note here about buying used wedding dresses on Once Wed, they highly recommend you use the service of companies like escrow.com to protect both the seller and the buyer. It's even better than PayPal – the buyer sends the money to escrow.com, which is essentially a mutual third party who will hold the funds and notifies the seller, who will then ship the item. Once the item is received by the buyer, s/he will have to actually accept the item and notify escrow in case the item wasn't what it was supposed to be and the seller was a scammer. Once the buyer officially accepts the item, then and only then is the funds released to the seller. There is of course a fee attached to the service, but it's only $100 and can be split between the buyer/seller and in my opinion well worth the money when making this type of purchase. I spent $700 on the dress and after shipping, alterations and dry cleaning, came to just under $1,000.
When I got the dress (after considerable delay at the border and some fun times with FedEx), I was ecstatic! It was only about 1 size too big on me and I just loved it! I felt really giddy and I didn't want to take it off. I didn't cry though, and for someone as sentimental as me, I was a little surprised that I didn't cry. But it didn't bother me at all, I don't think every bride-to-be cries when they've found "the dress". I also don't know if there really is a dress that's "the dress" for you. I think you will find one that will be the best fit in all aspects: look and feel, material, quality, price etc but there isn't necessarily one that is "perfect". I got the dress in the mail in July, just 2 months after our engagement. In fact, this was the first big purchase I made for the wedding. A couple of friends were really surprised by that and asked what if I fell in love with other dresses afterwards? Well, I figured if that really happened, I will deal with it. In truth, I still enjoyed looking at wedding dresses online and liked lots of them, even loved a few perhaps, but I knew this going in and accepted that was probably going to happen. So it wasn't a big deal even as I found myself liking other dresses, I knew I loved the one I bought. I think there were quite a few dresses that I liked as a dress or liked the idea of them, but they probably wouldn't have worked out as a dress for me. Does that make sense? A few months after I bought the dress, Randy of Say Yes to the Dress fame released a book called It's All About the Dress and I flipped through it out of curiosity. His book went beyond the ordinary advice and actually explained his philosophy when it comes to choosing the right wedding dress for every bride. This was a very interesting read indeed. In addition to taking into consideration what silhouettes are most flattering for you, the venue of your wedding, the season, the budget, and to keep in mind the question "what is the dress that makes you feel the most beautiful?", I think the most important tip he offered was to figure out the story of you as a couple and as an individual, which will naturally also be the story you will tell for your wedding. This really resonated with me and it all made sense. We had determined what we wanted our wedding to be: relaxed, intimate, romantic with a sense of simplicity. I felt the dress I chose was just that: romantic, but without being overly girly or too sweet, and elegant but simple.
Then there was just one final consideration, since I had to take the dress onto a plane, not choosing a poufy ball gown was definitely the right choice for me. I can't imagine trying to do that. I bought a travel garment bag for this specific purpose. It was $40 plus shipping and duties but was worth every penny. You can see it here. I was able to fold the bag in half after putting the dress in, and we also fit in M's suit. There is a lock system at one end for the hangers so everything stays together! Genius. The best part was nothing was wrinkled after a transatlantic flight (even though I had to lay them flat on top of our bags in the overhead compartment).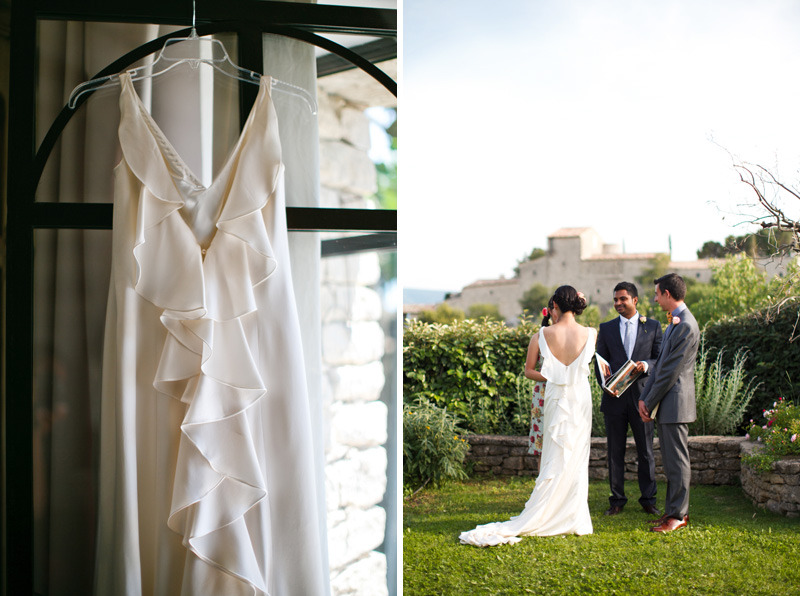 Photos by Chloé of Caught the Light
So there you have it. Wedding dress shopping doesn't have to be stressful. It doesn't even have to be a "wedding" dress. It could be anything you want to wear in my opinion. And if you are having a destination wedding, consider how you will transport the dress before and after the wedding and invest in a good garment bag. Next up I will talk about how we found the other vendors we hired for the big day, such as catering, and music.