Paris. Is there any other city in the world that can conjure up such feelings of romance & love? Perhaps that is subjective, but for me there is no other (except maybe Venice). This is the post where I tell you how much I love this city and share why I love it so much. This is also the post where you'll have to excuse me for shamelessly stuffing in some terms like "paris wedding photographer" or " destination wedding photographer paris". Or "paris elopement photographer". :) I'm not too picky. If you are planning to run away to Paris to get married and happen to read this, well, please email me! It would be a dream come true to photograph a wedding in Paris.
The first time I went to Paris was in June of 2009, after graduating from university. It was everything I thought it would be and more: the pastries, the chocolates (& macarons), the architecture, the history, the museums, the eiffel tower. It's hard to imagine that when the eiffel tower was first constructed, the Parisians hated it and dubbed it "the giant asparagus". Little did they know that it would become the iconic image of their beloved city. We stayed 4 nights on that first visit; it was not enough. I've since returned twice, and still it's not enough. For those of us who love the city, we each have our own reasons. I've thought about this a lot, and it was hard to put into words but here are the two main reasons:
1. It is a city that's steeped in history; every street corner, every bridge, every cobblestone. Having stood on the banks of the Seine for thousands of years, the city is practically alive with all the stories that took place across the years. But what about the Parisians? This is usually the question I get whenever I talk about my love of Paris. Well, what about them? Sure there are some who are true to the stereotype. But I don't think they are any more rude compared to people of other major cities. I think they are just indifferent to outsiders. And anyway I can do without the people. I'm sorry if this offends anyone, but for me Paris is not extra magical because of its people (the way Iceland is extra magical because of its people), Paris is magical in and of itself.
2. It is a city that is proud of its past and will not just forget it. They proudly & happily live amongst it. Because of that, and because of their philosophy of "working to live" instead of "living to work", the city is very much for living. It's built for you to walk, to go outside and connect, to enjoy your surrounding, or to pause and sit on many of the benches along its boulevards and the Seine. Though on my second visit I learned that Paris was not always this beautiful. The wide, treelined boulevards and typical Parisian houses (Haussmann style) with balconies on the 2nd and 5th level were the result of extensive renovations commissioned by Napoléon III in the mid to late 1800's. The more modern part of the city is kept outside of the city centre. You won't find any high rises within the city centre. And I hope that will never change. Most other great European cities are not like this. Their past is almost completely mixed in with their present. Not that there is anything wrong with that in and of itself. But there's something wonderful about being able to experience the city the way you would have hundreds of years ago (for the most part). I think the only other cities that come close to this (that I've been to) are Amsterdam with its centuries old canal houses and Venice. But the latter is slowly becoming like an amusement park with fewer and fewer locals who can afford to live in the city. The saying is that at any given point in time, there are more tourists in Venice than there are locals.
So here are some photos from the three visits I'm lucky to have so far, along with some of my favourite things.
P.S. some of these were taken more than 3 years ago, so don't judge me too harshly ok? ;)
The cobblestones in this courtyard (bottom left) are among some of the oldest in the city.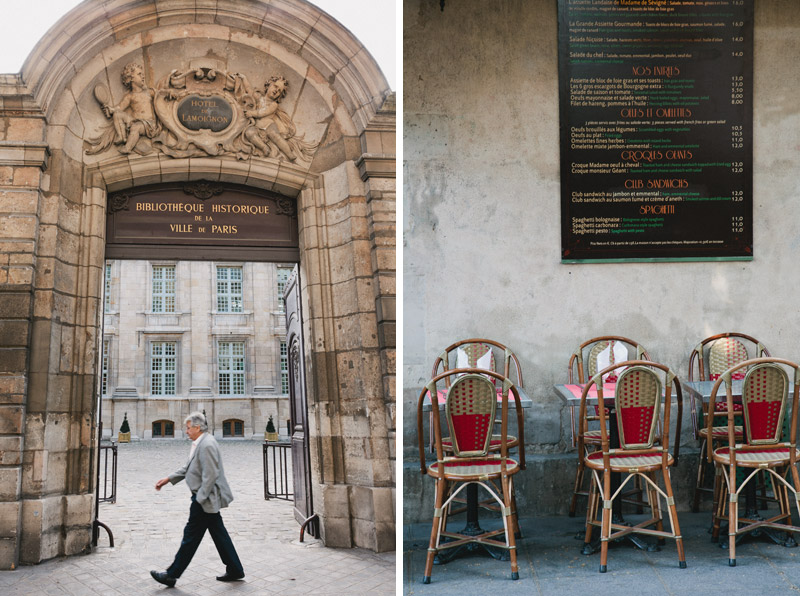 Wall to wall of Monet's water lilies at the Musée l'Orangerie.
Wall.to.wall.
It was breathtaking. I would go back any day just to lay my eyes upon them again.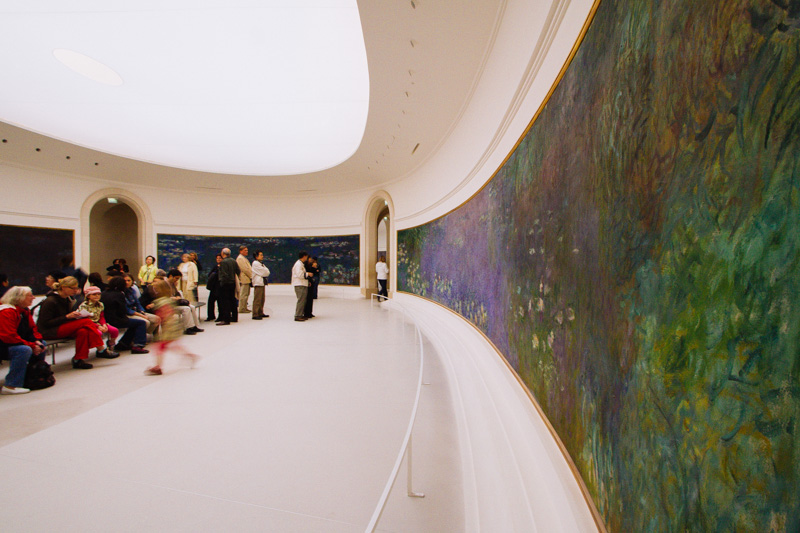 Can't talk about musées in Paris without talking about the Louvre. I've been to the MET in New York, some of the best in London and across Italy.
There is nothing like the Louvre.
You can spend days, weeks here and never see it all. There's always a new hall to explore. The building complex alone is a museum.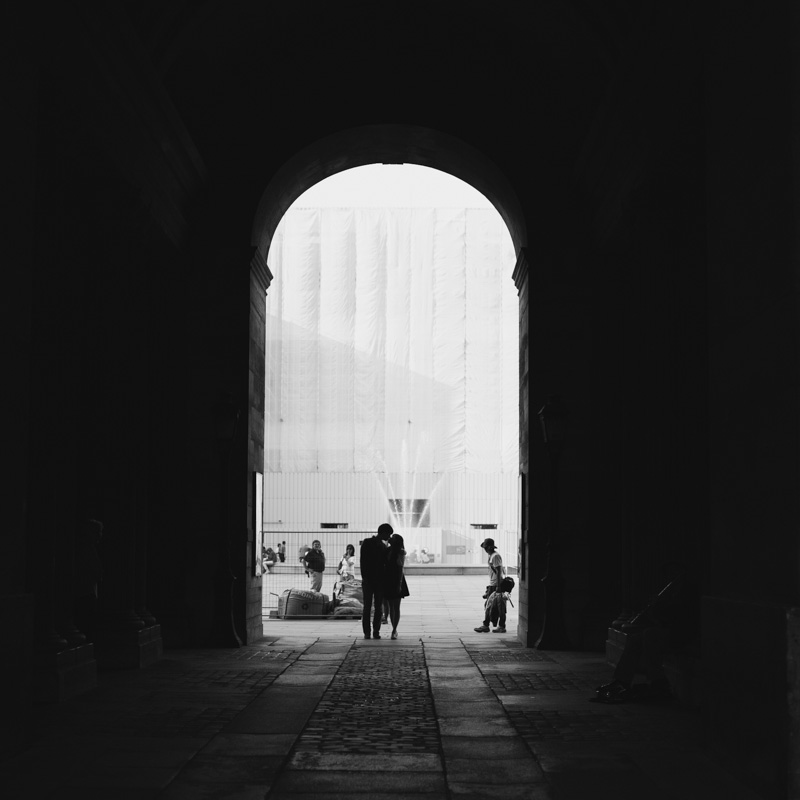 If you visit the museum, be sure to stick around long enough to watch the awe inspiring sunset from the courtyards.
That was one of my absolute favourites from our first visit, and I go back every time I return to Paris.
Tip: admission is free first Sunday of each month; and free Fridays after 6pm if you are under 26. Also free for EU citizens under 26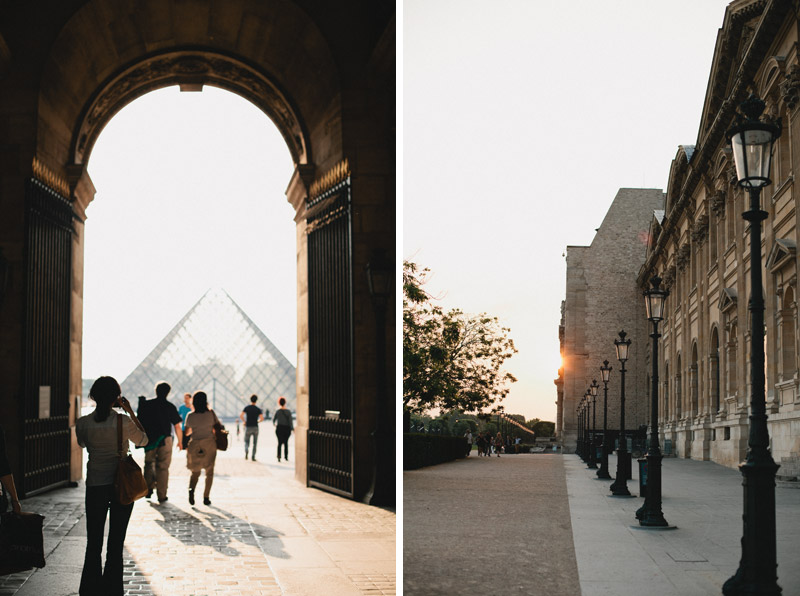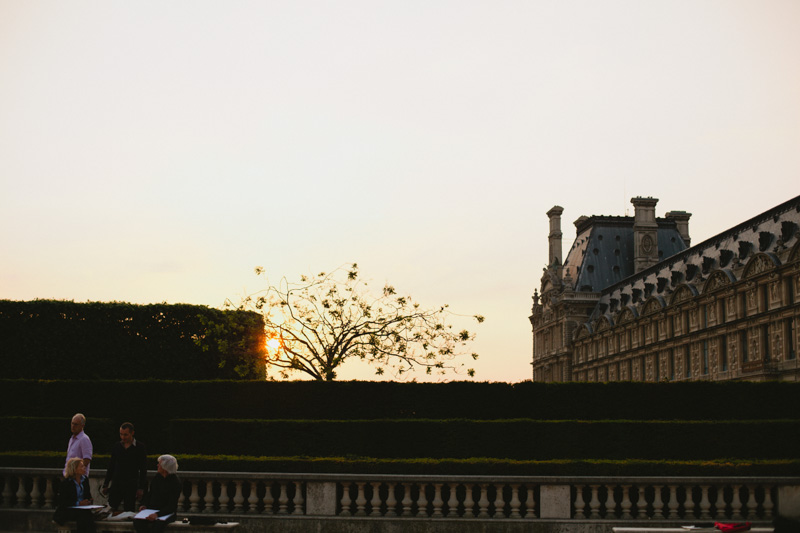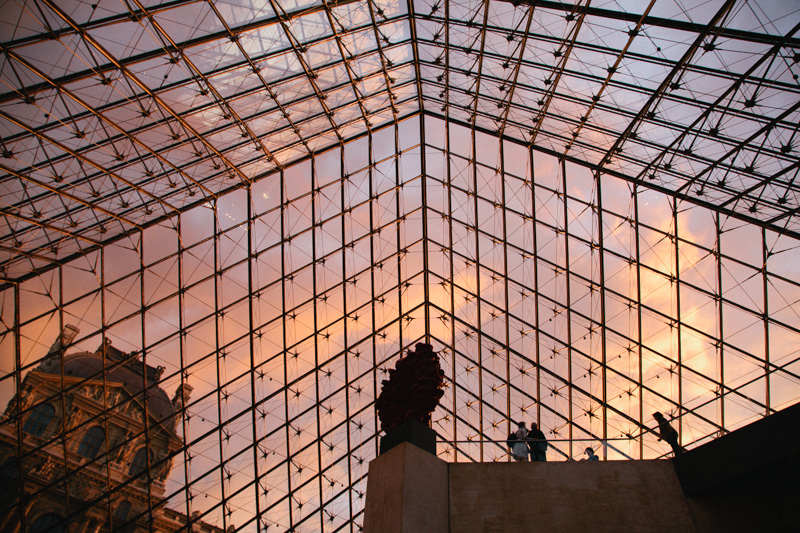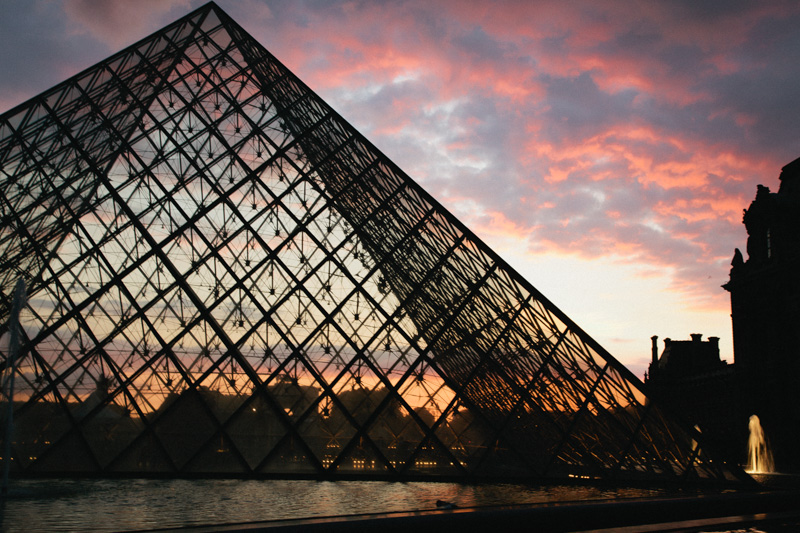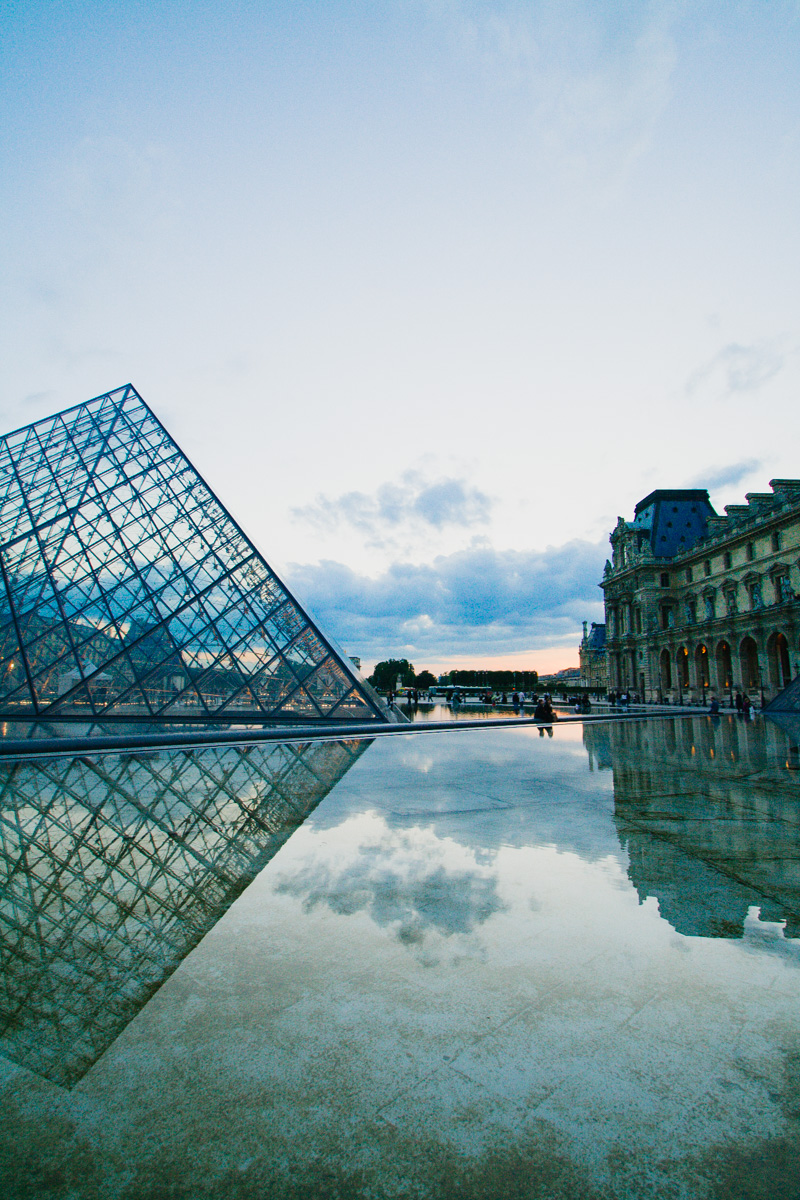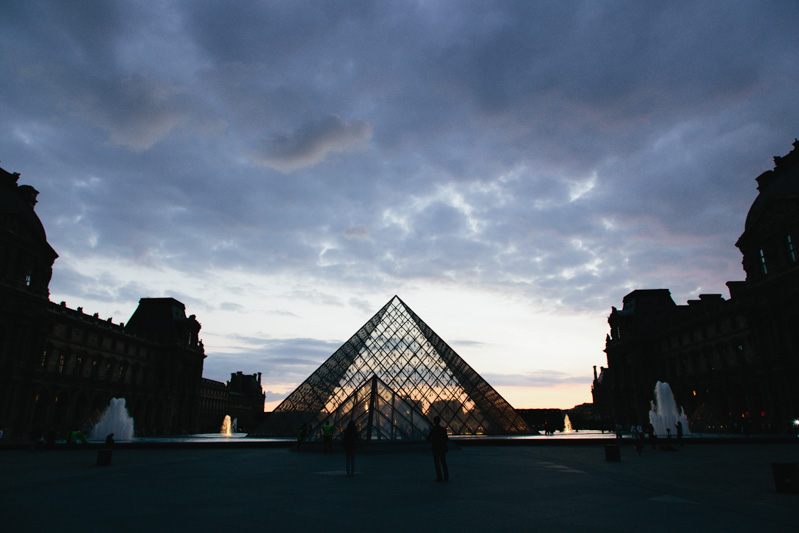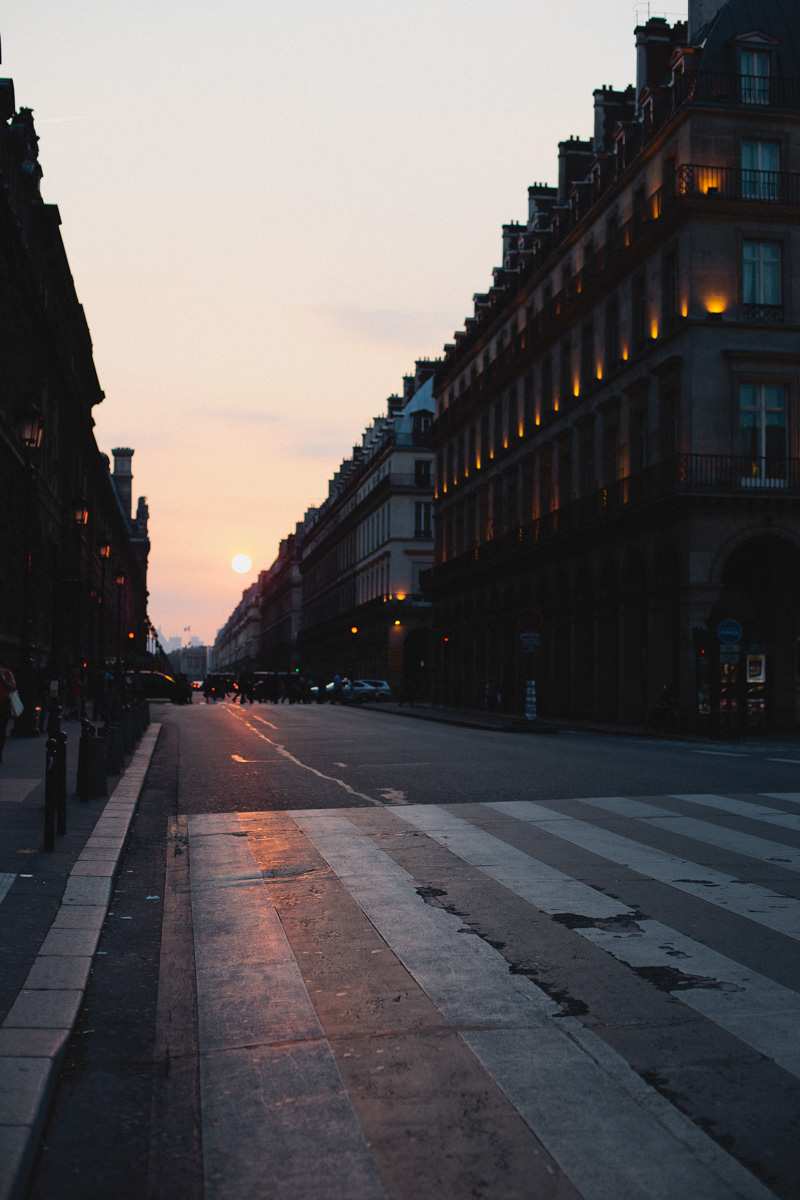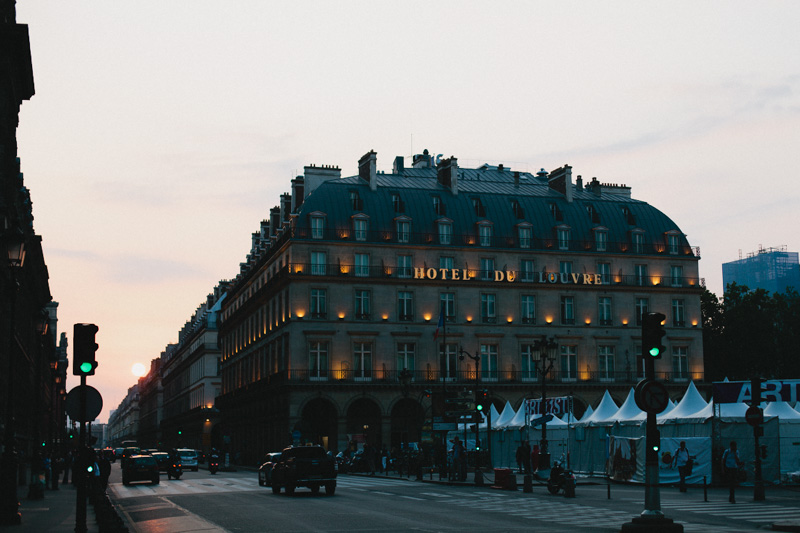 Notre Dame. No matter how many times I come here, it still takes my breath away upon entrance.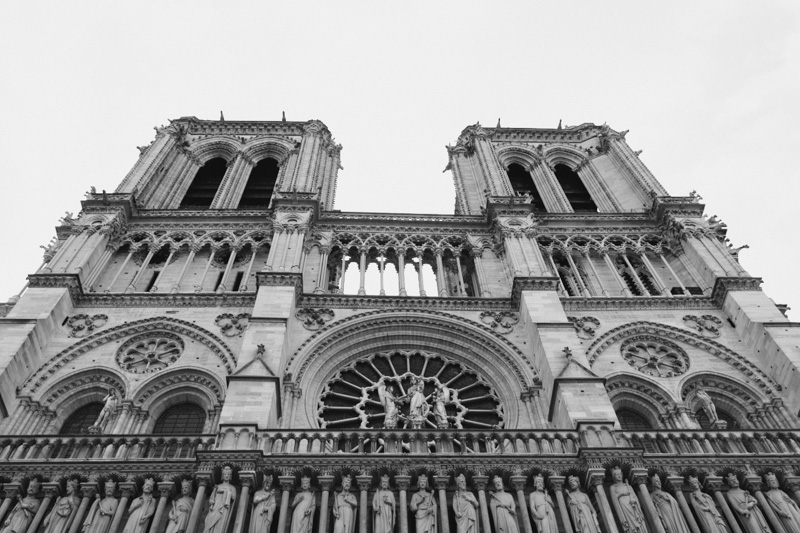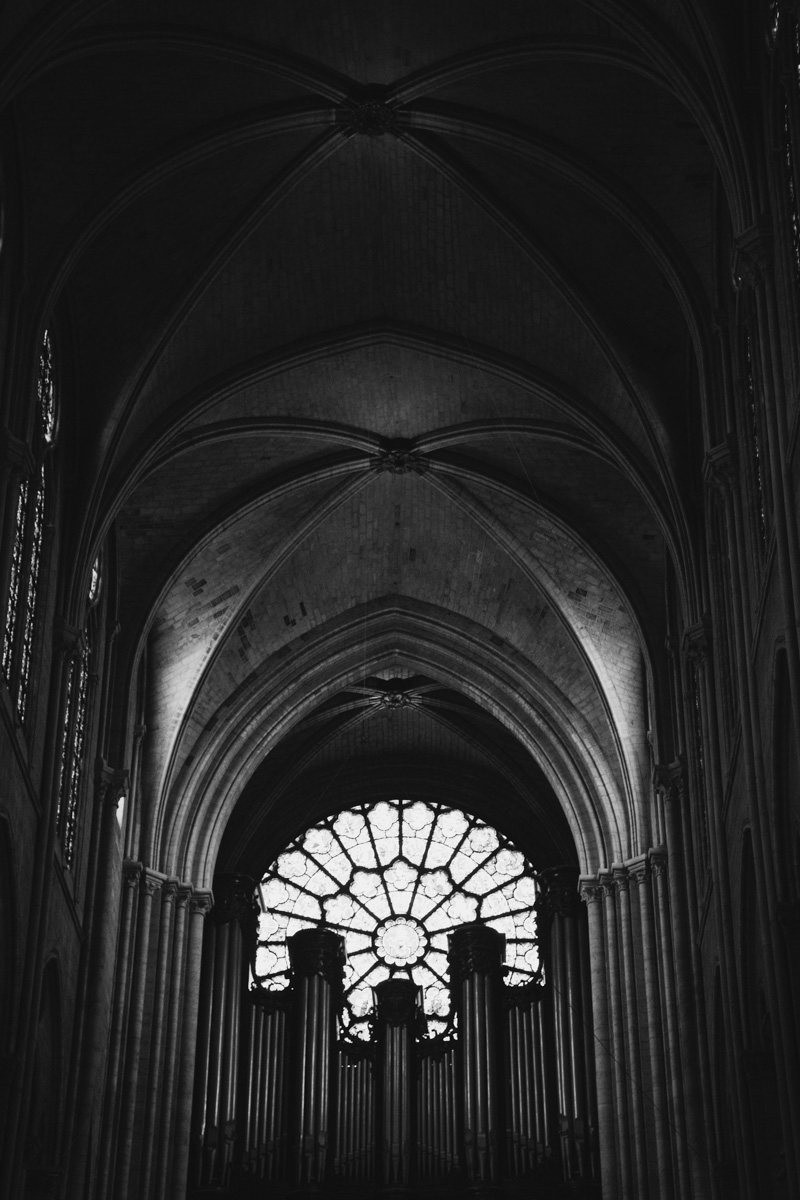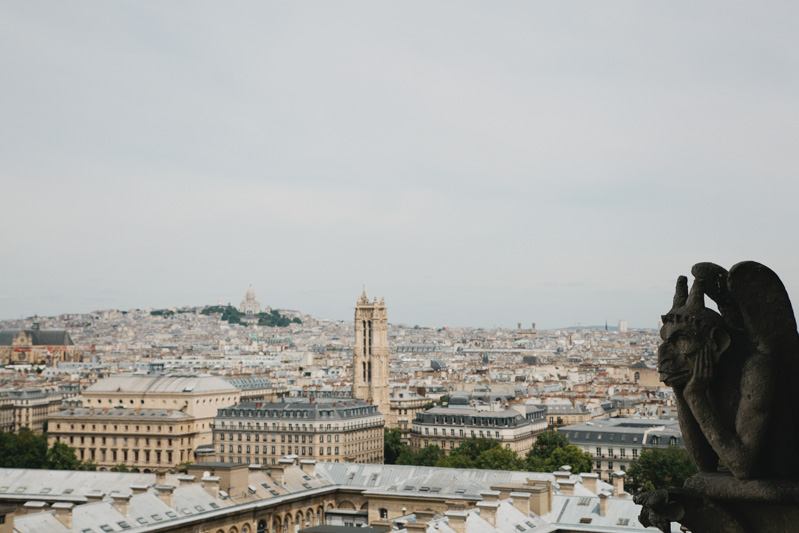 Paris rooftops.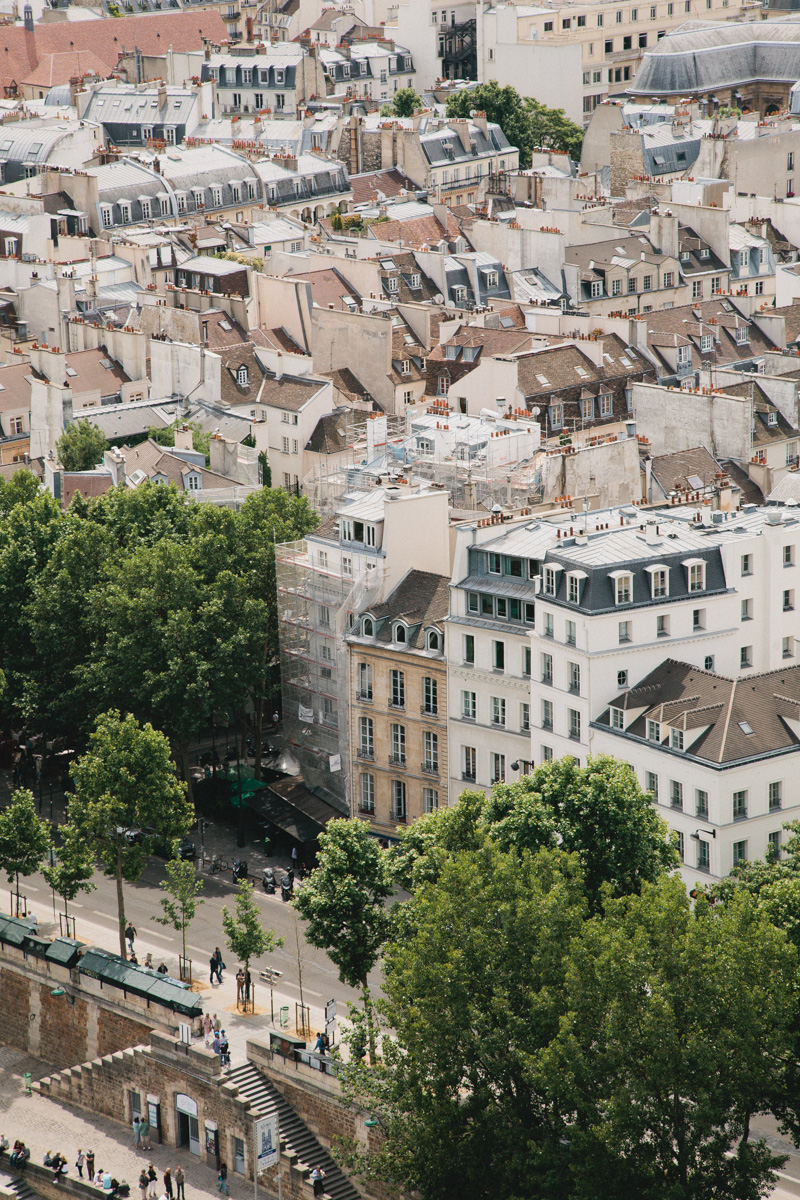 Walking around Montmartre.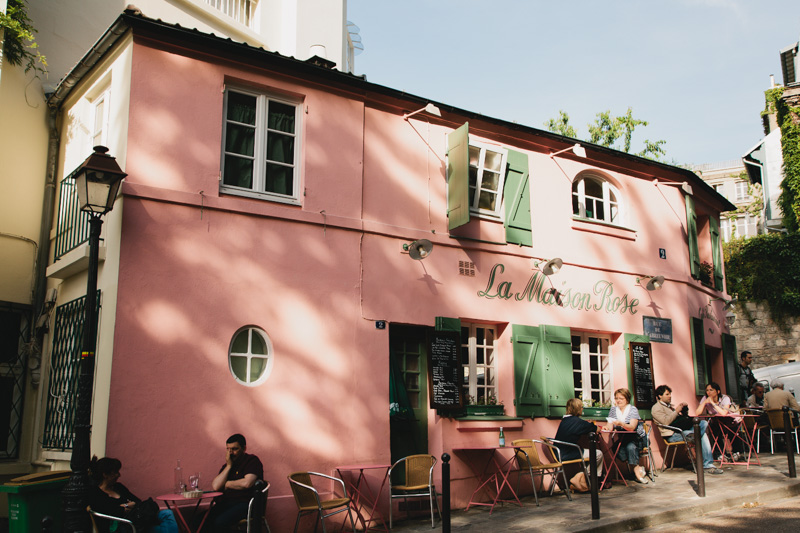 Is it me or do the stones of the Sacré Coeur resemble that of The White City of Minas Tirith in Lord of the Rings?
Watch Return of the King for a close up, you'll see what I mean.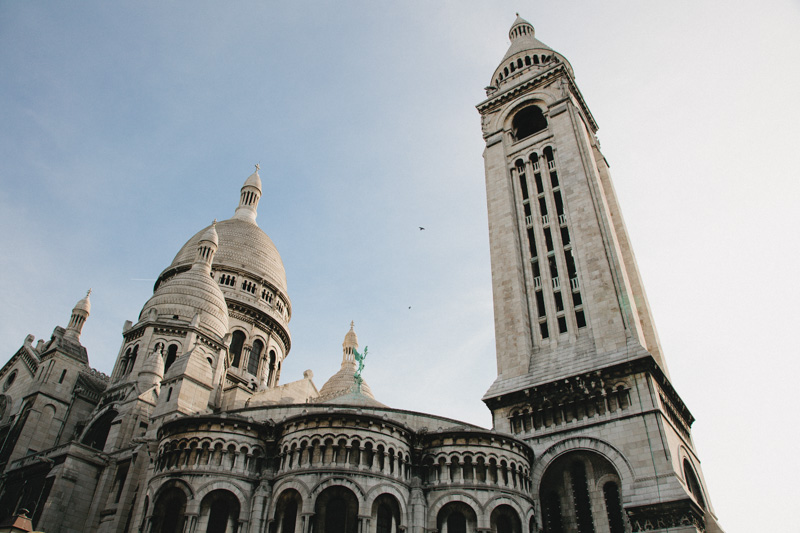 Literary walks in Paris. All the great writers moved to or visited Paris at some point.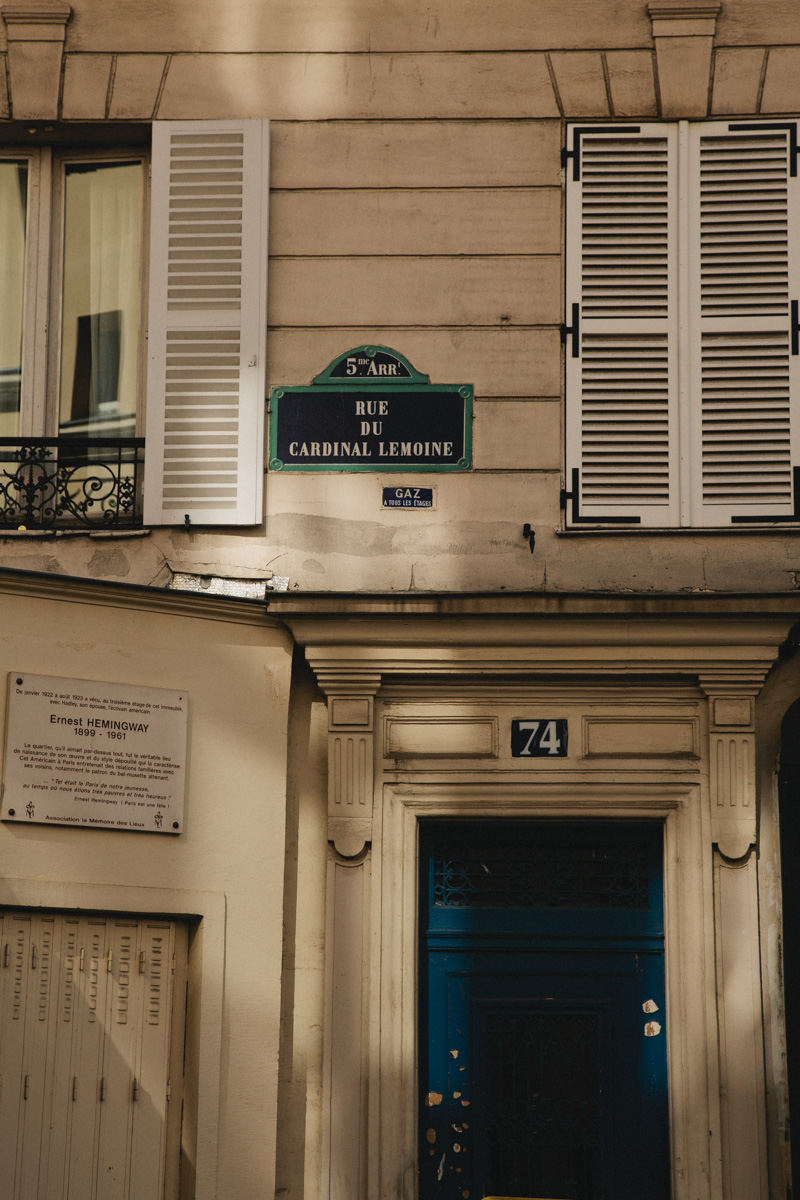 the vintage cars. the mini (by North American standard), vintage cars.
Here's something I noticed about cars there: unless it's brand new, the cars usually have mirrors falling off and lots of scratches and dents.
They don't seem to think it's such a big deal unlike in North America where they'll probably threaten to sue you for a small scratch.
My theory is that they have so little space there, the scratches, dents and fallen/loose mirrors are bound to happen sooner or later.
The Parisians (and probably most Europeans) have adapted to that.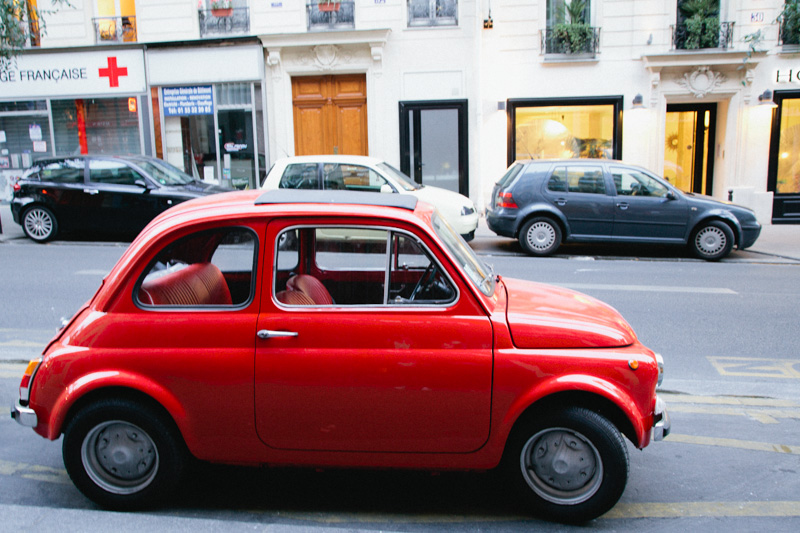 the many market streets, and street performers.
I think that's an accordion…?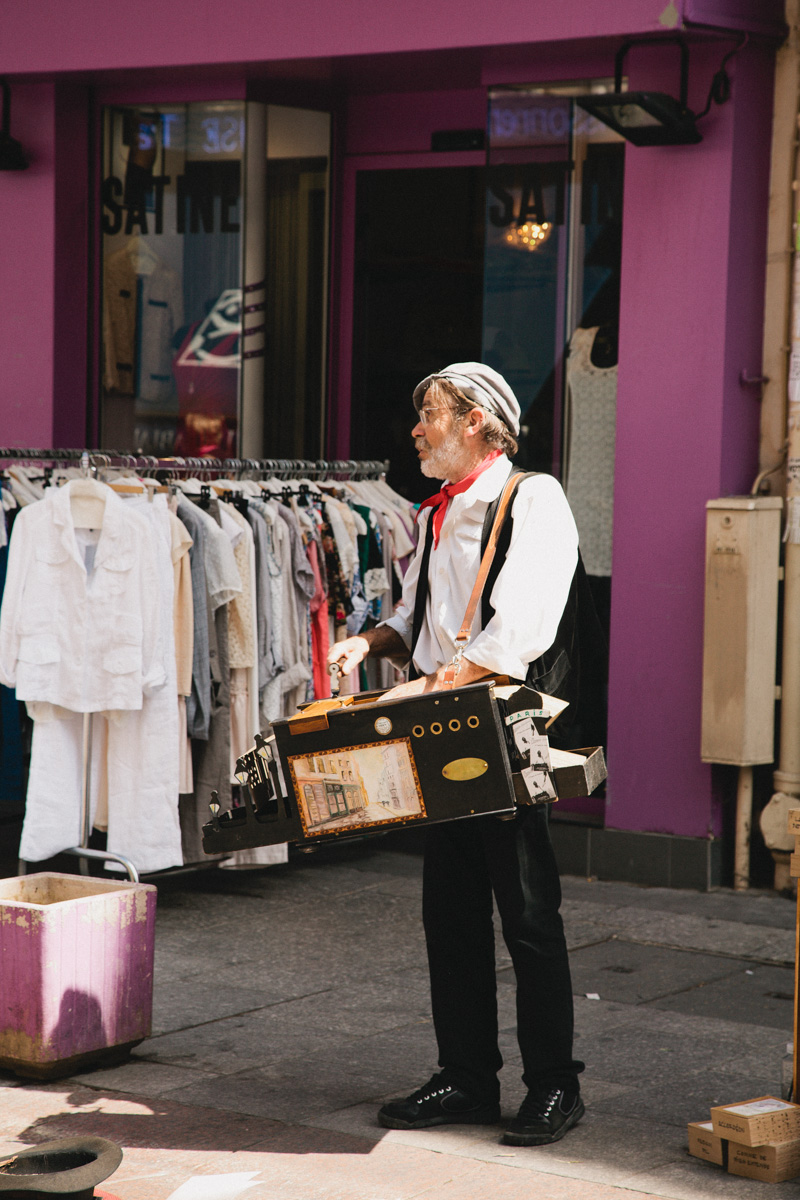 Flower markets/shops everywhere.
Pivoine, my favourite.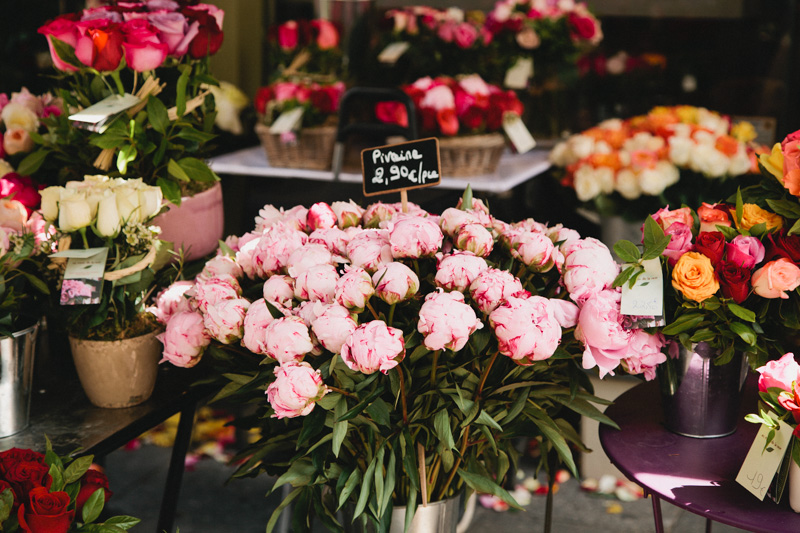 the bookstalls, or bouquinistes, along the Seine.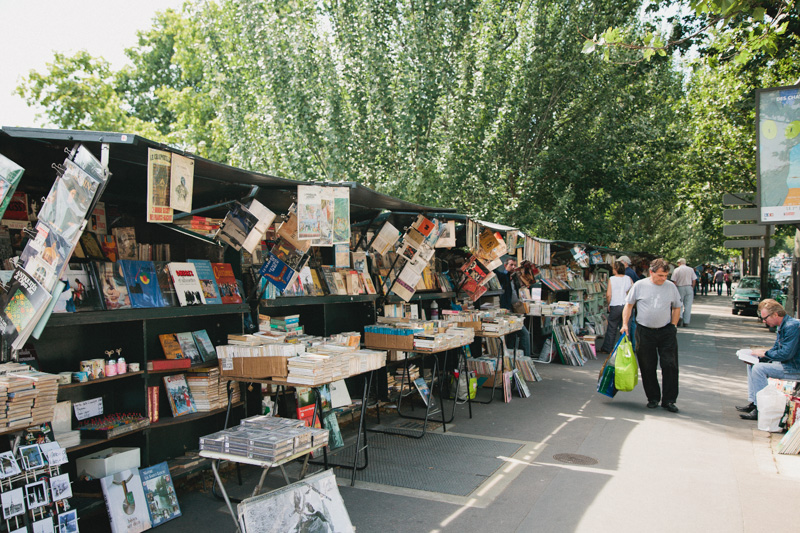 the streets themselves, and the buildings.
And the light that plays among the buildings.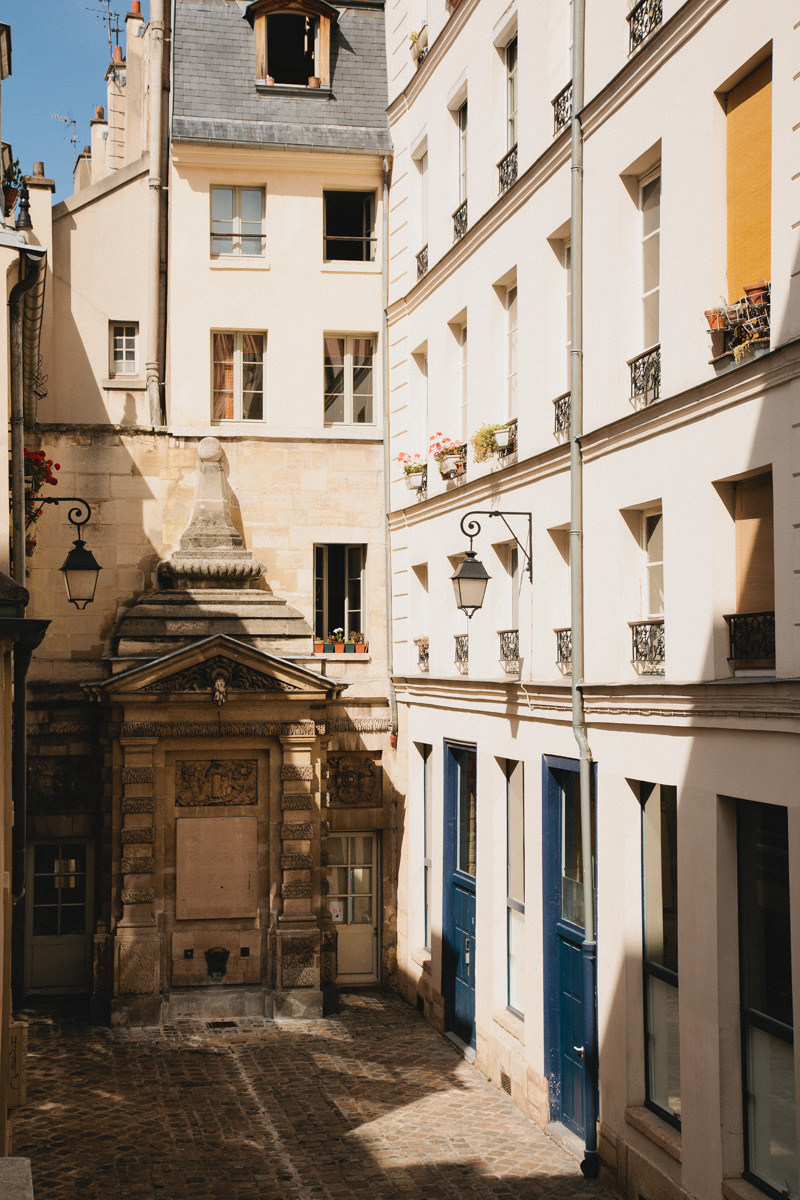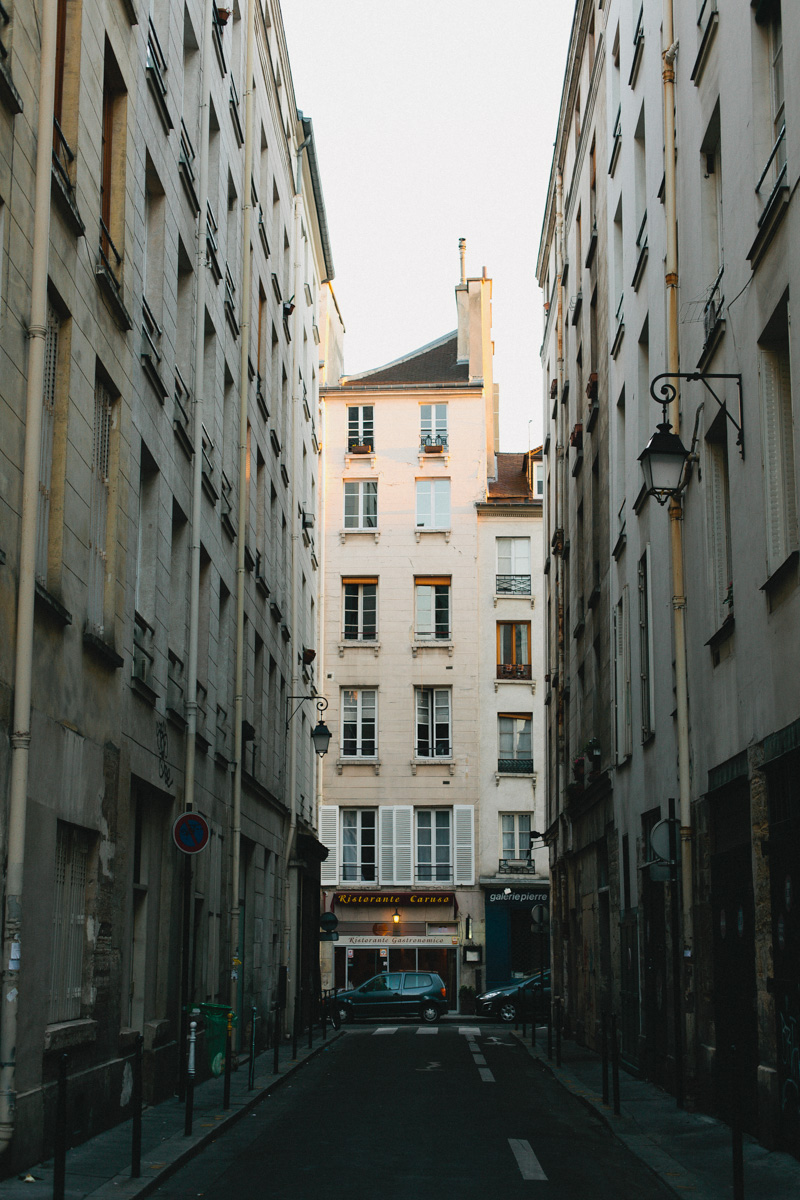 Ok ready?
I don't love French food…
Asian cuisine will always be my favourite. Italian is a close second.
I like French food, a lot. But I don't love it.
There's a funny story with the below right photo. M and I were at this restaurant just around the corner from the hotel we stay at.
Their menu was all in French (by the way this is how you know the restaurant is likely not a tourist trap) and we couldn't understand all of it.
There was an appetizer that we found particularly puzzling so we asked the waiter if he could explain it in English.
All we got out of that exchange was something that sounded like "beer and cheese". Although M heard "bear and cheese"
hahaha.
As you can see, it was a stacked pear with cheese. And it was delicious.
I guess the moral of the story is don't be afraid to try something new when traveling…even if it sounds something along the lines of "bear and cheese".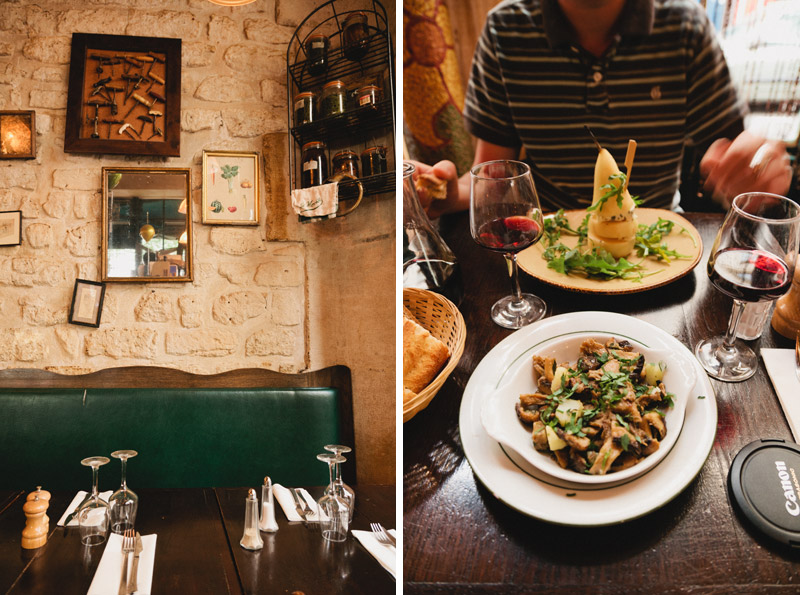 And speaking of French food, my favourite course is dessert. Pastries, macarons, ice cream. Everything!
Berthillon is the most famous glacier in Paris. Oui. There is always a line up. Their flag ship is on the Ile Saint-Louis.
It's perfect after a long, meandering walk around the city.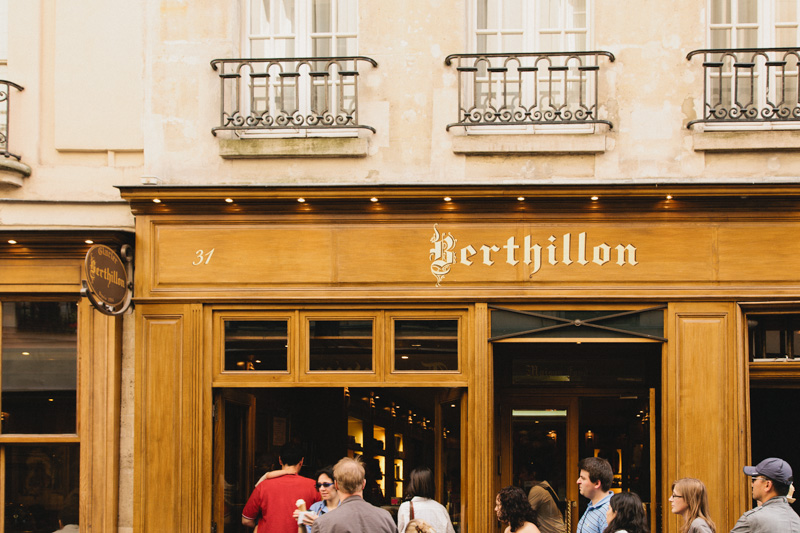 And since many restaurants & cafes on Ile Saint-Louis carry Berthillon ice cream…
It's perfect for the evening right before you return to your hotel as well.
Especially if it's your last night in Paris. ;)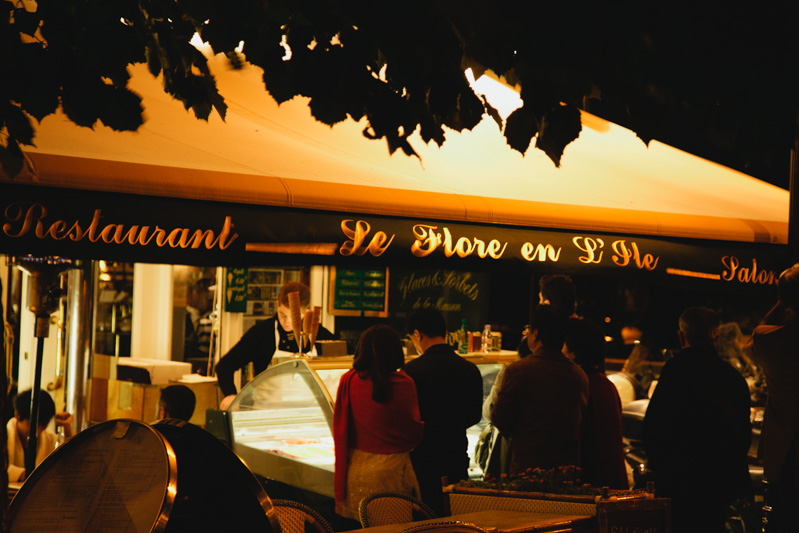 My personal favourite treat though has to the macaron.
I've sampled many different ones, but my favourites are still from Ladurée.
Chateau de Versailles. No photo will convey the scope and grandness of the palace and its gardens (except maybe an aerial photo).
No trip to Paris is complete without a visit to this magnificent palace. You can rent a bike and cycle through the gardens.
You can also boat in the ponds.
You can nap on the lawns.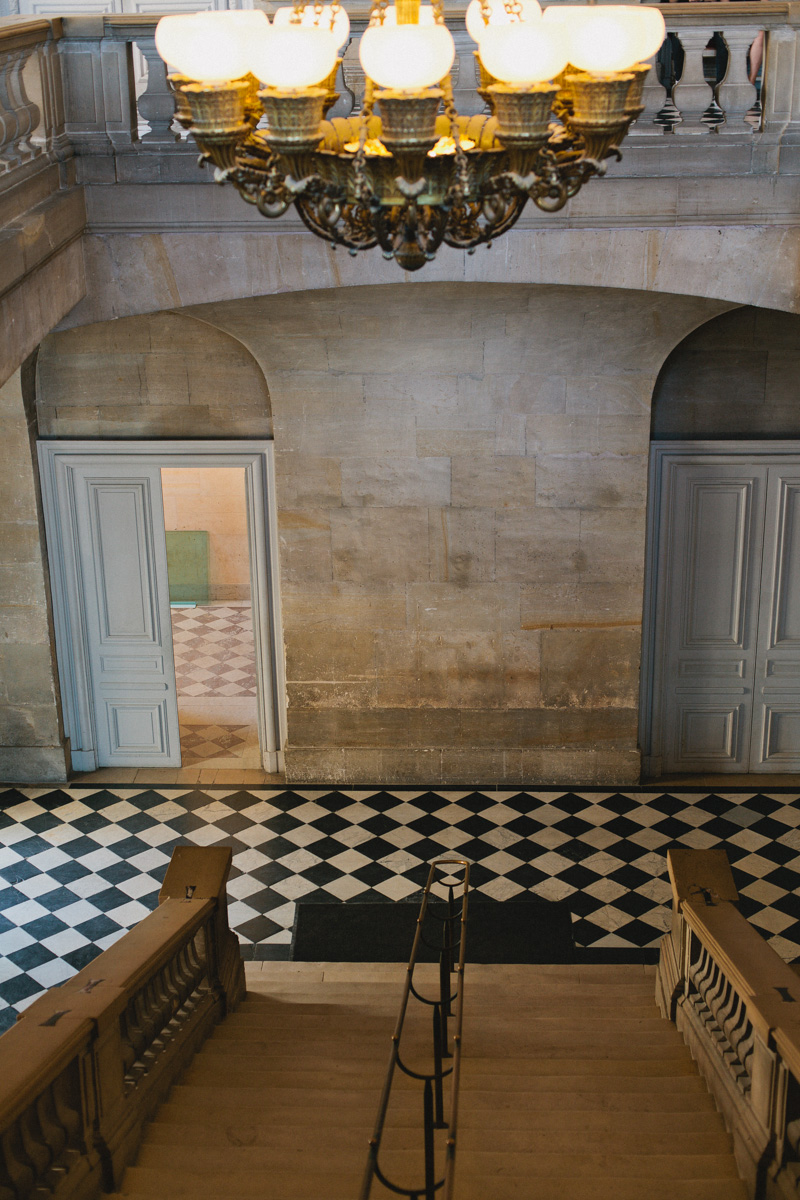 The Hall of Mirrors…
Or maybe, the Hall of Tourists?
Everyone holding up their camera to take a pic of the hall.
I held up my camera to take a pic of the people taking pictures.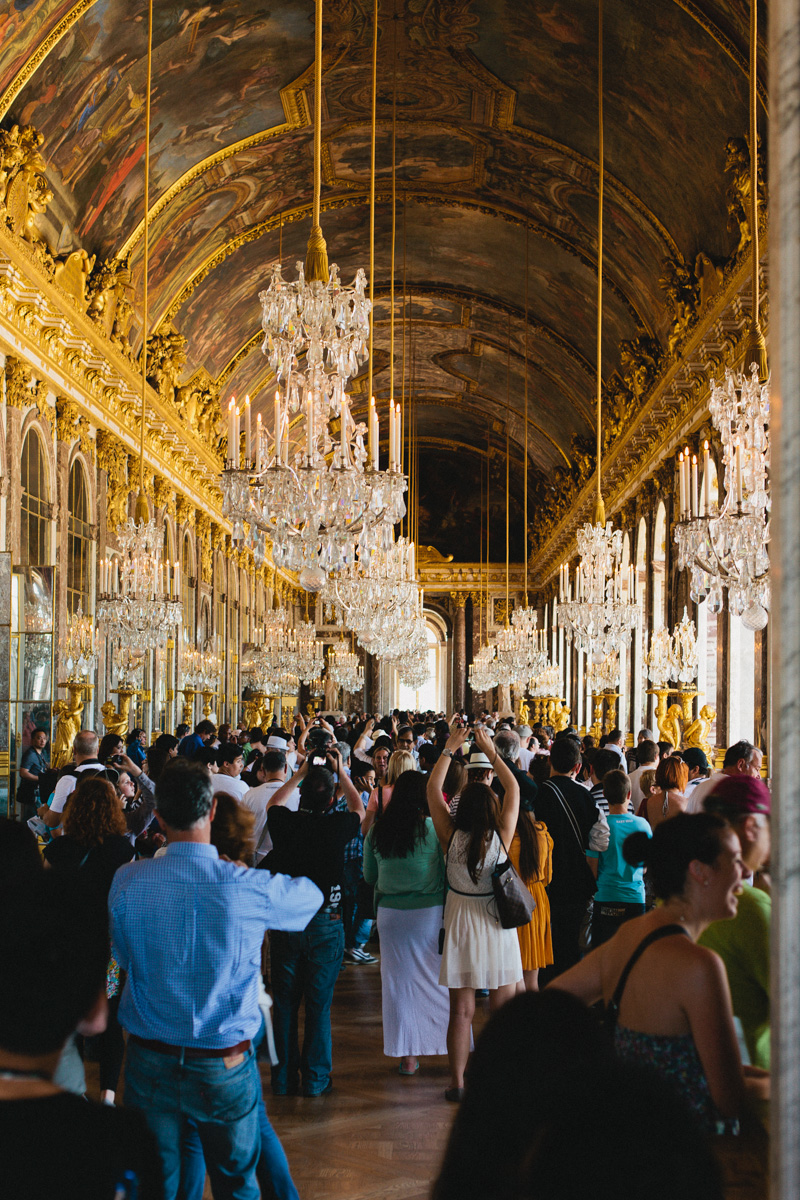 the Seine.
And lounging by the Seine.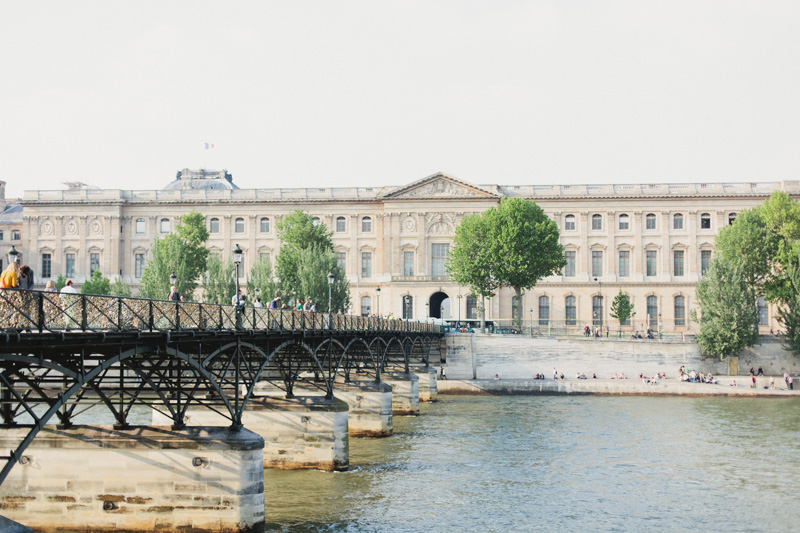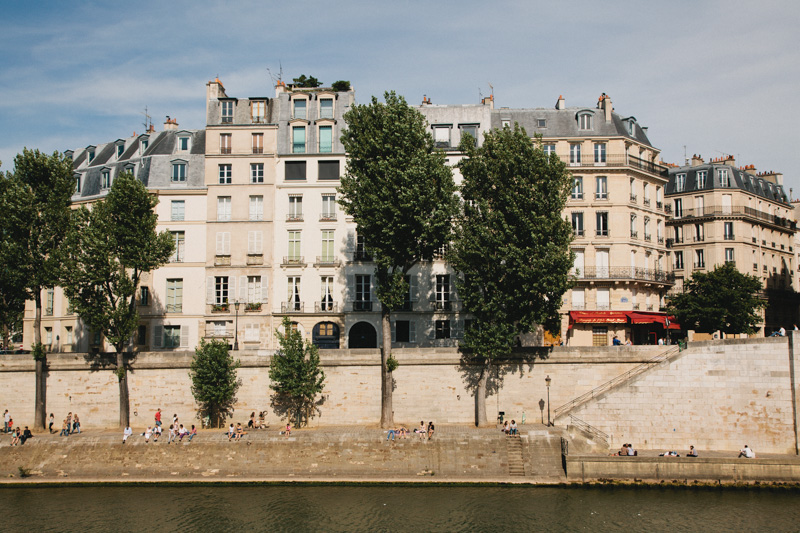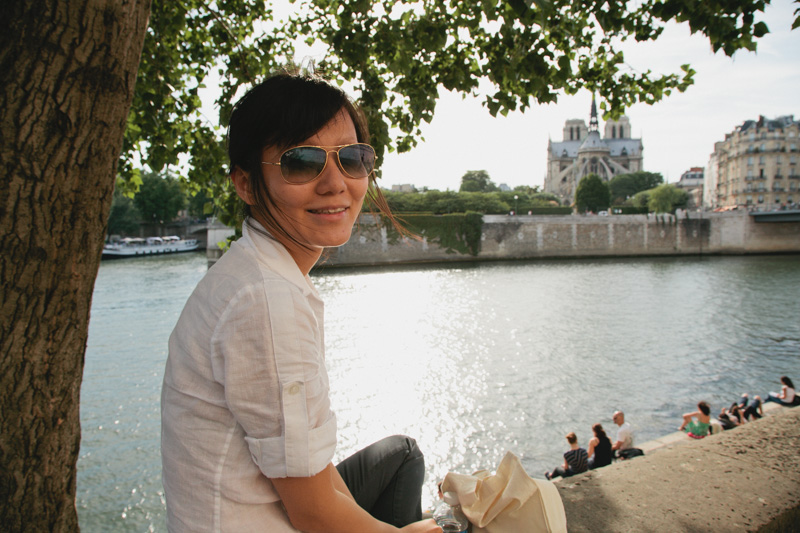 the many bridges that cross the Seine and connect the Left Bank with the Right Bank.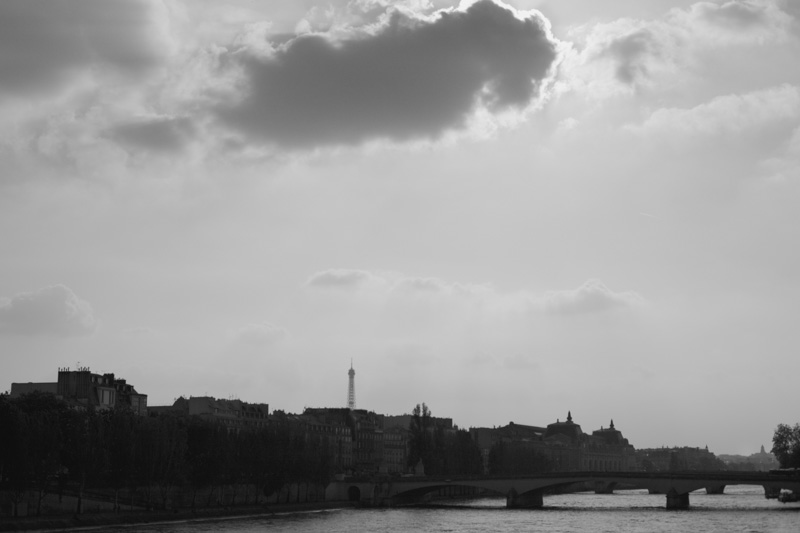 and of course, sunsets from those bridges.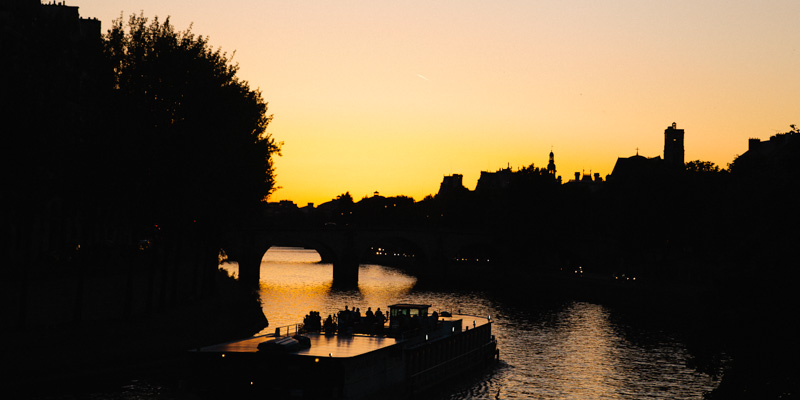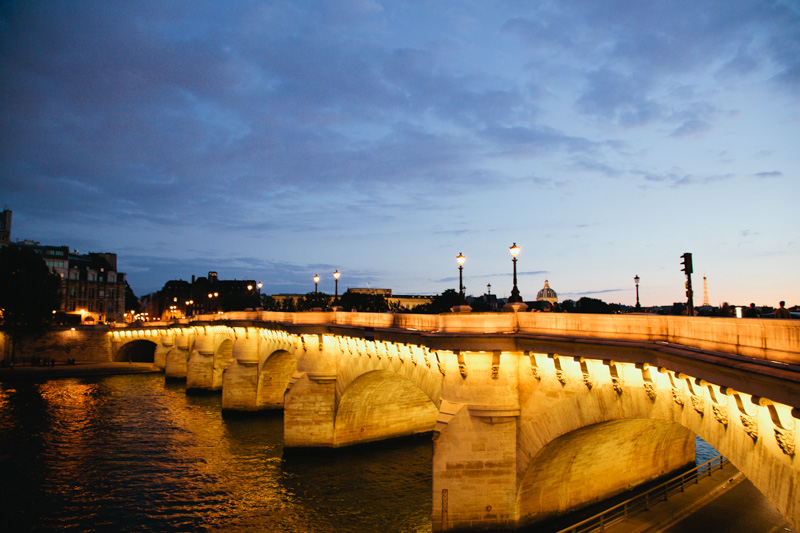 the eiffel tower.
especially when it lights up and sparkles.
and it's even more amazing than it is during the day.
This happens for the three summer months from dusk to 1am, at the top of every hour for 10 minutes.
The first time I saw this, we were on our Fat Tire Bike Tour riding through the Tuileries garden like we were possessed trying to catch our evening boat tour.
Seriously it was magical. It was probably even more magical because I didn't know about this little tradition.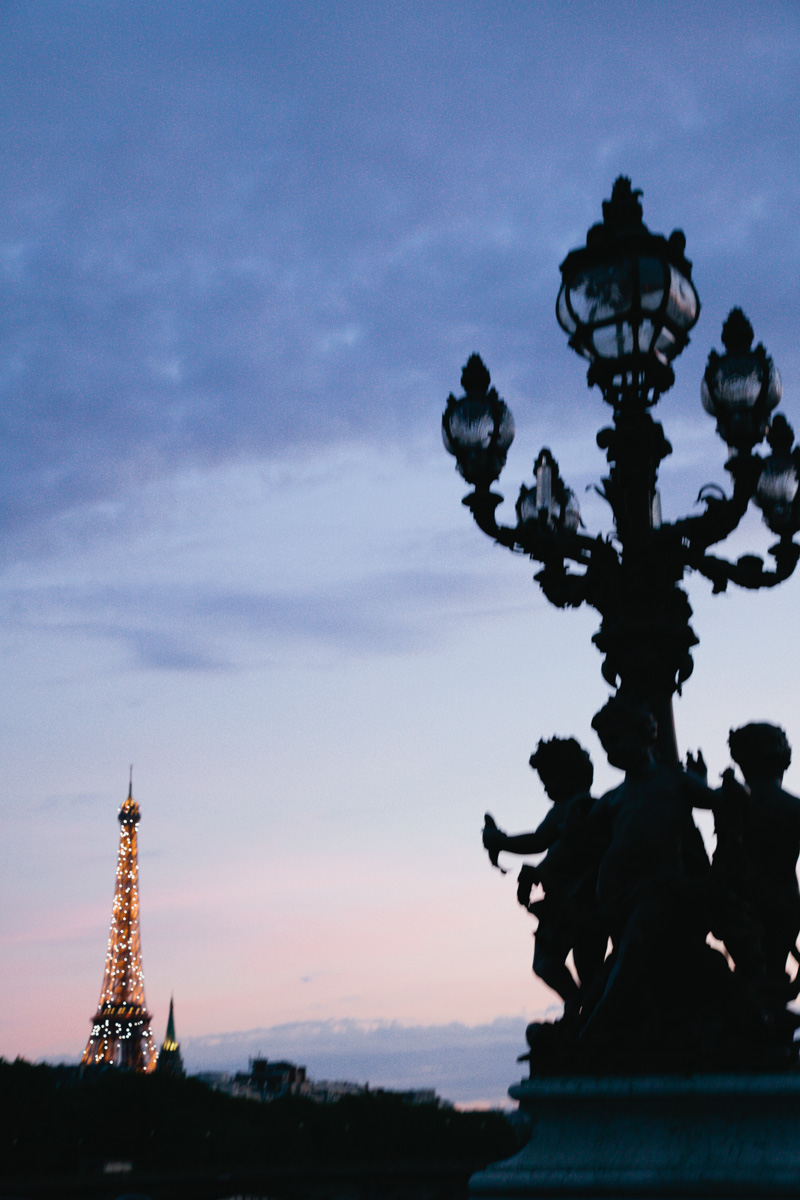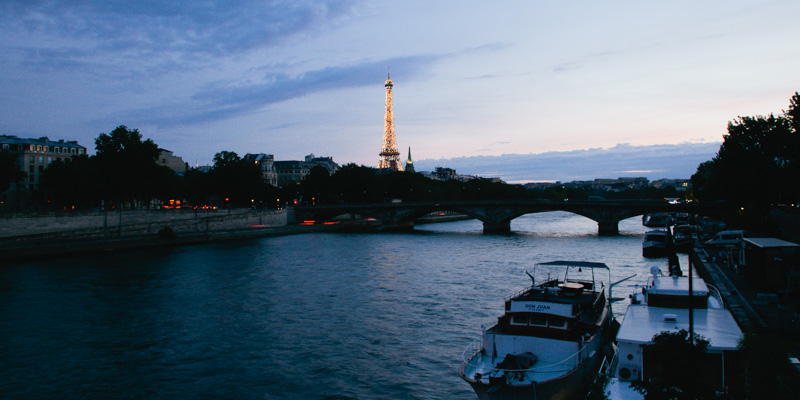 Pont Alexandre III.
Remember this scene from Midnight in Paris?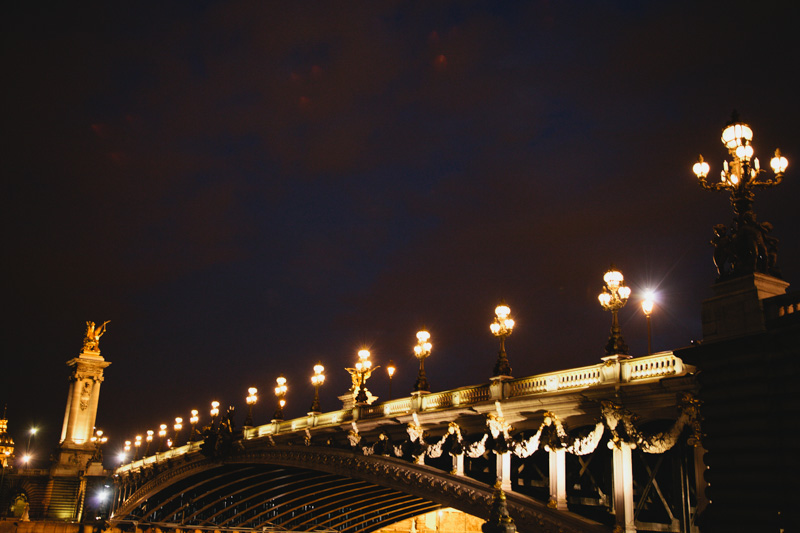 and finally, Shakespeare & Co. for the book lover in me.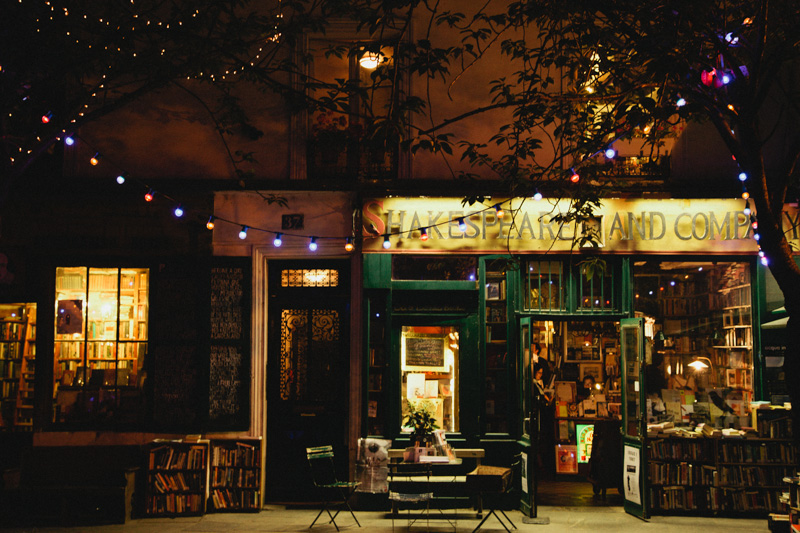 So there you have it; the reasons why I will forever gush about Paris.
Where to stay:
Hotel Jeanne d'Arc – a little gem in the le Marais arrondissement
Don't Miss:
Fat Tire Bike Tour – engaging and informative bike tour (we especially enjoyed the evening one) + you get to ride a bike through the city like a local!
Evening boat tour on the Seine – many companies do this.
Ice cream at Berthillon – even if you are not an ice cream fan (although how can anyone not be an ice cream fan?), give it a try.
But most of all, make your own Paris. Go and explore, get lost and you'll discover things that you'll love.
And one more time, if you are having a wedding in Paris (or even just thinking about it), email me already! :) I can't wait until the next time I return.